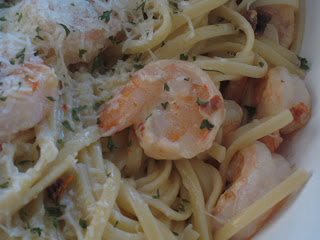 I need to emphasize the word plan here. Plan doesn't always signify that it happens. I had a meal plan last week. But, mealtimes didn't happen exactly as I had planned.
We ate omelets instead of take-out on Monday, this fantastic shrimp and pasta instead of Spaghetti and sausages on Thursday; Friday night's Chinese Food bumped pizza night to Saturday. You get the picture.
But, regardless, having a plan is the first step toward having dinner. It just happens that I went to Plans B, C, and D last week. And that's okay, the shrimp and pasta was well worth the detour.
Here's what I think we'll be eating for dinner this week:
Monday – Beans and rice with toppings
Tuesday – Queso Fundido and homemade tortillas, beans and rice, salad
Wednesday – Spaghetti and Meatballs with Red Sauce
Thursday – Crockpot Enchiladas, salad
Friday – Pizza and Salad
Saturday – Meatloaf and Mac and Cheese
Sunday – Mixed Grill, Rice Pilaf, and salad
In case you missed it, here is my series on how I use coupons to feed my family of 8 and stay in the black:
Adventures in Couponing: 8 Great Ways to Find Coupons
Coupons: You Gotta Know How to Hold 'Em
Shop Listing
Meal Planning from the Sales
For more meal planning inspiration, visit I'm an Organizing Junkie every Monday.