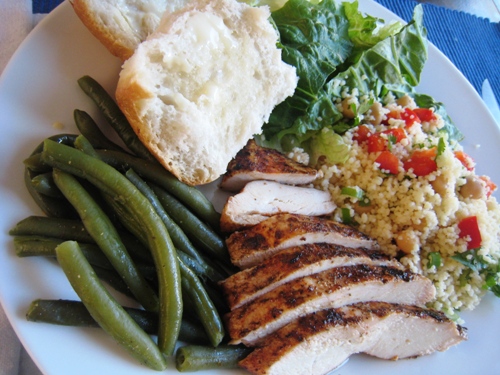 So, we need to apply good principles to the management of our homes. One of those is to keep everyone well fed. As much as I enjoy a run through McDonald's (or Chipotle or Taco Bell or Subway), making that a regular habit is not good for my family's health or our budget. There's no question that home-cooked meals are better for everyone. There's plenty of research out there to suggest that eating dinner together at home as a family promotes all sorts of good growth in our kids and in our family dynamics. (Book reviews on this to follow in the coming weeks.)
If you don't have a meal plan, you are more likely to: A. run through fast food way too often or B. run to the store everyday for ingredients. Both are bad for your time management and finances. You have to have a plan.
I usually do my planning after the Wednesday grocery store sales flyers come out. This give me time to plan and coordinate with my coupons and have us all stocked up before Sunday night hits. Everybody does it different, so I hope you feel freedom to find your way.
So, what are the basics to meal planning? I've done it a number of different ways over the past fourteen years of marriage. I love to cook, so I tend to mix it up a bit, just so I'm not bored. And I've probably not exhausted all the possibilities. I'll be posting different approaches to meal planning over the next few weeks. There's nothing new under the sun….so you may have heard this before. But, a refresher course is always helpful. Here are some basics to planning a week's worth of dinners:
Create a list of meals that your family enjoys and that fit your budget.
Look at what's in the cupboard, frig, and freezer. What meals can you prepare with what you already have? Jot those down or check them off on your list. If you don't have enough for 7 meals, choose from your list. I try to vary the kinds of meals we have, alternating meals with meat or chicken with vegetarian options. I think the variety is good for the budget, and it sounds healthier to me.
Make a weekly grid on your computer.
Now, look at what activities you have scheduled this week. What days are busiest? Put the simplest meals on those days. If you have a late doctor's appointment or soccer practice, then plan a crockpot meal. If there is a day with time to cook a more elaborate meal, plug that meal into that day's spot on your weekly grid.
Double check your menus to see that you have the ingredients necessary for each meal. If not, write them on your grocery list. Go shopping once!
Now, you shouldn't have to ask yourself at 5pm, "What am I going to make?" You have a plan. Check it each morning to make sure you've thawed the necessary items. You might even pull out the non-perishable ingredients and place them on the counter so that you're all ready when prep time arrives.
Bon Appetit!