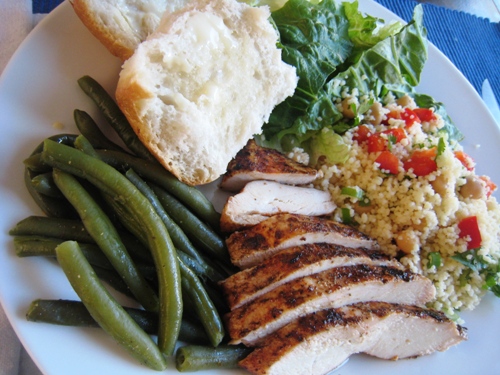 So, in order to avoid McDonalds and StuffMart everyday, we know it's best to have a meal plan. I've mentioned how I've been doing it recently and how I (and multitudes of mothers) have done it in the past.
Last year I devised a different method based on putting together a "staples ingredient" list to keep on hand at all times and a list of meal ideas that use just those items.
I called it "31 with 31" — 31 meals made with 31 ingredients. This is a great method for those who like to fly by the seat of their pants and don't want to be tied to a specific dish to cook each night. As long as you have your staples and you know what you can make with them, you're good to go. It's particularly nice for summertime as it lends itself to spontanaeity.
Start small if you prefer and come up with 10 meals that your family likes. Then, make a grocery list based on those 10 meals.
Chances are they will contain some common ingredients. Keep a copy of the list in your wallet, so that you're always prepared for a trip to the store.
If you keep your pantry, frig, and freezer full of your custom stapes, you'll always be prepared for a quick dinner fix.
In case you want further inspiration, here's my summertime list.
Summer Menu Ideas
alfredo pasta
bean burritos
butter and cheese pasta
chicken enchiladas
chicken fajitas
crunchy tacos
fried chicken salad
grilled sausage/hotdogs
ground beef burritos
hamburgers
lasagna
lemon chicken
marinara pasta
meat sauce w/ pasta
nachos
pasta and sausage
pizza
soft tacos
spaghetti and meatballs
Grocery List
Chicken breast
Ground beef
Sausage: Italian, bratwurst, hotdogs
Bell pepper
Garlic
Lemons
Lettuce
Onion
Potatoes
Tomatoes
Beans: black, pinto
Bread
Chips
Crushed toms
Diced toms
Enchilada sauce
Flour
Olive oil
Pasta: long, short, lasagna
Rice
Spices
Taco shells
Tortillas: corn, flour
Tostada shells
Butter
Buttermilk
Cheese: jack, mozzarella, cheddar, ricotta
Cream
Eggs
Parmesan
Sour cream
Got a quick trick for your menu planning?