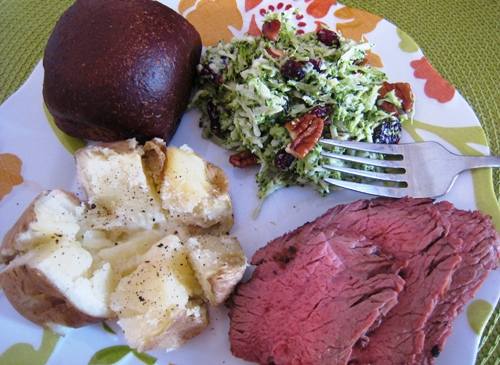 Yesterday I puttered around the kitchen and filled up my freezer. We're set for meals for the month — and then some! I am not very good at keeping up with that freezer inventory, and lo and behold! There was more food in there than I thought there was.
Last night after the last dish was washed, I pulled up my planner, typed in my month's worth of meals, and printed it out. So easy!
Here's what we're having for the month:
7. Seven-Layer Nachos
8. Tri-tip, Sauteed Mushrooms, Potatoes, Salad
9. Bday dinner — going out
10. Spaghetti and Meatballs, Salad, Cornbread
11. Garlic Butter Chicken, Rice Pilaf, Salad, Green Beans
12. Tacos, Beans and Rice
13. Grilled Chicken, Grilled Bell Peppers, Quinoa Pilaf, Salad
14. Bday dinner – Pizza
15. Roast Chicken, Mashed Potatoes, Cranberry Sauce, Green Beans
16. Meatloaf, Rice, Green Salad
17. Spaghetti with Red Sauce, Salad, Garlic Bread
18. Field trip day — eating out
19. Pizza Night
20. Tacos
21. Grilled Chicken and Vegetables, Rice
22. Grilled Tri-tip, Potatoes, Vegetables
23. Soup and Bread Night
24. Eating Out — Just 'cause
25. Thanksgiving
26. Pizza Night
27. Spaghetti and Meatballs, Salad, Biscuits
28. Tacos
29. Grilled Chicken, Vegetables, Quinoa
30. Turkey Pot Pie
What are you having?