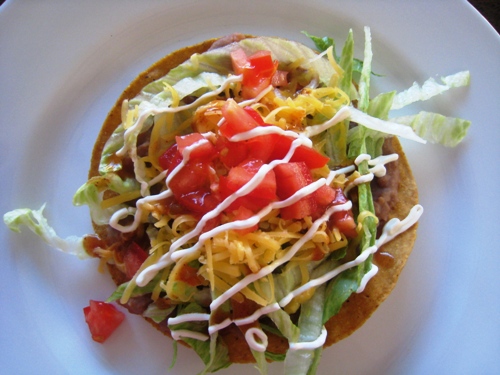 Meal planning last week was just the ticket to keeping meal times under control last week. I did a thorough job, too, by writing down meal ideas for all three meals, all week. I knew what ingredients I already had as well as what little things I needed to pick up at the store. Cooking was fun — and we made the most of what we already had. You can read how the Pantry Challenge is going here.
One highlight for most of the family was the reintroduction of the Bean Tostada. I used to make these 1 or 2 times a week back when we lived on beans and rice, rice and beans in our "get-out-of-debt" days. FishBoy7 said, "Oh, are we going to have those things that I loved when we lived in Kansas City?" Apparently, he has only happy memories of those days.
His elder brother didn't think so fondly on the dish — no meat and overkill make this one of his least favorite dishes. But, the others did a happy dance when I said we'd be having it more often. And I may just add a little ground or shredded beef for my carnivore teenager.
Here's the plan for this week, some are carryover from last week since we didn't get to them:

Breakfasts
Pumpkin Scones (recipe coming this week) and Yogurt
Banana Pancakes and Fresh Fruit
Smoothies and Blueberry Nutmeg Muffins
Cranberry Orange Granola and Milk
Bread and Jam
Cranberry Coffeecake
Chocolate Chip Waffles and Berries

Lunches
Tuna Sandwiches, Veggies
DIY Pasta Salad, Fruit
Mac and Cheese, Salad
Beans and Rice, Fruit
Leftovers

Dinners
Hamburgers on Homemade Buns, Veggies and Dip, Fruit Salad
Meatloaf and Mashed Potatoes, Green Beans, Pumpkin Rolls
Baked Chicken, Rice Pilaf, Tossed Green Salad with Peperoncinis, Artisan Bread
Grilled Fish, Quinoa Pilaf, Green Salad
Bean Tostadas
Pasta with Red Sauce, Green Beans, Biscuits
Pizza, Veggies
Have you got a meal plan going?
Don't forget to visit I'm an Organizing Junkie for more meal planning inspiration.