WARNING: THIS POST IS ABOUT MONEY, FOOD, AND A PANTRY CHALLENGE. Oh yeah, and there's a meal plan, too.
The Money Part
About a week ago I loaded updated Quicken software on my computer. The old version was from 2002, so it was due for an upgrade, especially considering that the computer it came preloaded on was threatening to kick the bucket. Seeing as every photo and financial record is stored on that computer, it was time to make a change.
So…. I balanced the books for our year-end status report. We didn't save as much as we made — we had to eat and all that, but we didn't go in the hole, either. I'm thinking that that is a good thing.
I like the color black.
One thing I learned from all my number crunching was that we spent an average of $612 per month on groceries. Not too shabby considering that I think we've been eating like kings!
We also spent about $150 per month eating out. This brings our monthly food average to $762 which is still less than the $966 that the US Department of Agriculture says food for a family of 8 on a "thrifty" meal plan should cost. Heavens! We could definitely eat like royalty if we spent that. WHAT are they thinking?
It gets better. The "liberal" plan sets my food costs at over $2000 per month. Oh! That makes me laugh!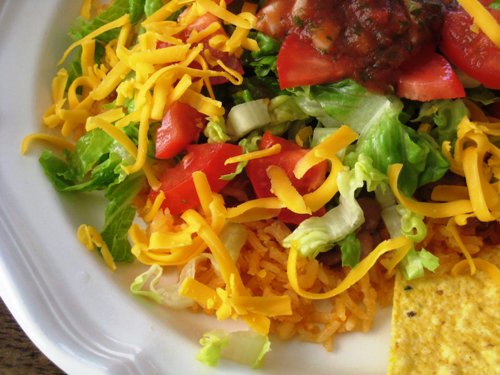 Food
All that to say I'm feeling pretty good about how I shop and how we eat — at least by government standards.
One of the things that helps us to have such low food costs is to keep a frugal pantry. Last year I explored this in more detail in the Build a Frugal Pantry series. If you haven't checked it out before, I recommend doing so as there was input from many great bloggers in that series on my food blog.
The short story: I regularly buy items on sale that I know we will use so that I'm not paying full price when I need or want them.
Currently, our freezer is still really full. It's also growing a protective coating of ice on the inside walls. Must be time to defrost. But, in order to thaw, we need to empty. So, this month we're digging in and using up what we have.
Here's my meal plan for the week:

A Pantry Challenge
I am also going to do a little pantry challenge. Last January I did this and it went pretty well. I cut our budget for the month and tried to make the best of what we had.
By the time I was done, the cupboards were bare, but I think I'd shaved a good chunk of cash off our expenses, too. And as I mentioned above, we did okay on food costs this year. I think this helped. And since it's in my mind to keep our costs low, I figured I'd do it again this year. And I want you to join me!
Don't feel like you need to eat yourself out of house and home this month. I'm not putting you to that kind of challenge.
Instead, I'm thinking of this:
Make the Most of What You Have This Month

For some that might mean digging deep into the cupboards and using up those odds and ends.

For others that might mean building a frugal pantry, scouting for good sales, and starting to stockpile items that you regularly use.

Still others might want to give the pantry an overhaul and remove unhealthy items and replace those with more wholesome alternatives.

You get to decide what best fits your family and your life. Shop till you drop or work toward using what you've got. This isn't a "no spend" month — unless you want it to be. It's a "be mindful about what you have and what you need" month.

We're working on our kitchen pantries to make the most of the resources at our disposal.

I just hope you'll join us in talking about money, food, and the pantry challenge.
My personal January challenge
Spend $100 (or less) a week on groceries.
Focus on buying fresh produce and dairy.
Ya with me?
I'll have a link up on Tuesday if you want to "formally" commit. And I'll be posting daily (or close to) updates on GoodCheapEats so you can see "a month in the life."
Don't forget to pop over to I'm an Organizing Junkie for more meal planning inspiration.