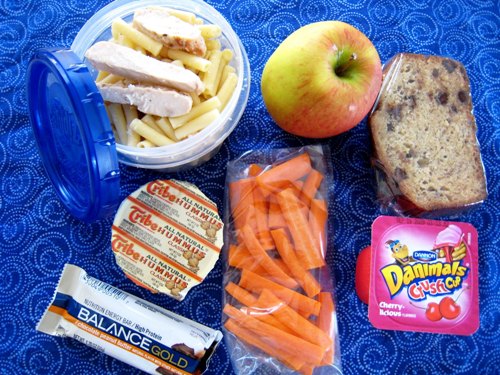 Here we go, folks. School starts for us this week. Cover me! It's gonna be one wild ride.
As such, I know that I need to have a few things in place:
some freezer meals and other easy-to-fix meals
lunches packed the night before (even though we homeschool)
a serve-yourself breakfast plan

Breakfast
The Breakfast Plan is a new idea that I came up with recently when I realized how busy my days will be. Since my older kids are 14, 10, and 9, they can very easily prepare much of their own breakfasts. My plan is to prep a continental type breakfast that everyone, even the littles, can, more or less, prep themselves.
I'm going to make sure we have enough of these for a delicious and nutritious continental breakfast:
hard boiled eggs
quick breads and muffins
fresh fruit
juice
smoothie fixings
cheese sticks
granola
yogurt
Saving the hot breakfasts for the weekends will free up a lot of time during the week, so that we can get a good start on our school days.

Lunch
I know from experience that packing our lunches, even when we spend most days at home, helps our school day go so much more smoothly. I'm going to stick to simple lunch fixings:
Turkey or sunbutter sandwiches
Cheese and crackers
Pasta salad
Fresh fruit
Vegetable dippers

Dinners
Simple and easy is best for breakfast, lunch, and dinner. I prepped a bunch of things for the freezer that can go on the grill or in the crockpot. I'm hoping that with a meal plan, our afternoons will be fairly hassle-free. We have our weekly produce box to keep us supplied on lots of fresh fruits and vegetables.
Beef stew in the crockpot
Hamburgers
Chili
Grilled fish or chicken
Pizza night
Pasta with red sauce
Take-out
What's your plan for easy meals this week?