This month we subscribed to a CSA on trial. What fun to get a box full of farm fresh, organic produce each week!
It has proved to be a huge learning experience as we've tried a ton of new foods including swiss chard, eggplant, edamame, butternut squash, and black eyed peas.
It has also been a huge challenge, particularly in the way of meal planning. I found that many of the vegetables we received have mandated that I change my plans. This is not necessarily a bad thing. But, fall is a pretty busy time for me, so this may not have been the best time of year to experiment.
For instance, two nights last week, we ate something different than what I had planned in order to incorporate the fresh vegetables. Breakfast night and baked chicken gave way for Vegetable Bolognese and Lasagna made with the leftover sauce. Both were delicious, but a little more cooking than I had originally planned.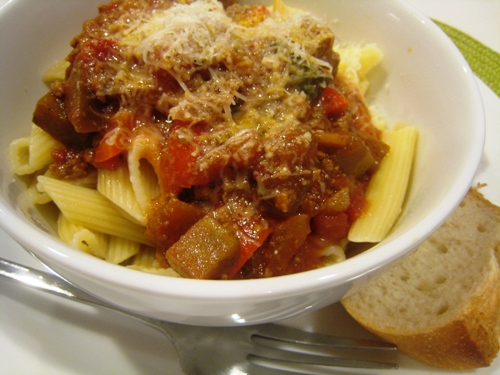 This week, I've got chard, squash, and more eggplant to make use of. As we speak I've got beef stew going into which I'm going to sneak some eggplant. Not sure how that one is going to go over, but we'll see.
Since these aren't foods that I would normally buy, it's making meal prep more challenging and time consuming than I would like it to be. And for this reason, I don't think I will continue our subscription.
Don't get me wrong — I love the fresh, organic produce. And in some ways, I love the surprise each week regarding what's in season. However, this way of cooking just doesn't fit this season in my life. Since it is more expensive than my normal way of shopping, I feel obligated/guilty if I don't make good use of everything in the box.
And quite frankly, I can't take the pressure. Proof positive that we each gotta find our own groove.
Our meal plan for the week:

17. Beef Stew with Eggplant, Squash, and Carrots, Mashed Potatoes, Biscuits

18. Pasta with Red Sauce, Sauteed Chard, Green Salad, Cornbread

19. Carnitas Soft Tacos, Beans and Rice, Green Salad

20. Grilled Chicken, Quinoa Pilaf, Grilled Veggies, Squash Rolls

21. Turkey Moussaka, Green Salad and Butterhorns

22. Pizza Night

23. Roast Chicken, Potatoes, and Veggies
What shapes your meal planning and how do you adjust?