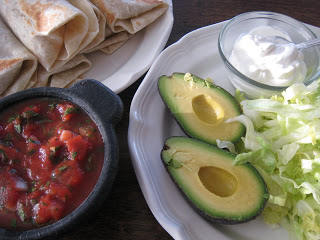 One of the things that happens to me during the Fall is that I get overcome by this urge to "squirrel away" food! It must hearken back to my pioneer genes or something, but I love to put up food for winter, as our great-grandmothers must have done. This summer I made jam for the first time in years, so our pantry is filled with enough jam to last us until next summer. In a few weeks we're heading North to apple country and I'm hoping to come home with 40-80 pounds of apples to make pies and applesauce.
But, in addition to these things, I'm totally drawn to filling my freezer with pre-prepped meals. I've loved the convenience of Once-A-Month cooking since I read the original book of the same name about 13 years ago. I don't always love three days on my feet, but I LOVE, LOVE, LOVE the convenience of dinner being half-prepped for me.
One shortcut that I've adopted is to make double and triple batches of different meals over the course of several weeks. It doesn't take much extra time, but it pays off in big dividends. In fact, last week in the midst of unpacking, I made five quick meals for the freezer. I took 8+ pounds of chicken tenders that I bought on sale. I split them up and made three dinners' worth of marinated chicken for the grill as well as two dinners of fajitas. So simple, so easy and it took just minutes. The best part is that since it's still grilling weather where we live, my husband will be doing all the cooking! Yes, yes, and again, I say, YES!
So, this week, I'm planning my meals to be
a) simple OR
b) a double or triple batch of something so that my dinner prep time is serving more than one purpose.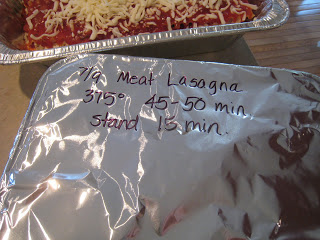 Here's what I'm thinking of for this week's dinners:
Beans and Rice (make extra beans to freeze)
Chimichangas (not sure how these will freeze, but they go great in FishPapa's lunchbox the next day, so we'll test it out.)
Lasagna (freeze)
Baked Chicken
Chicken Pot Pie (freeze)
Pizza (freeze extra dough)
Carnitas (freeze)
For meal planning inspiration, visit I'm an Organizing Junkie where readers share their real life menu plans each week.