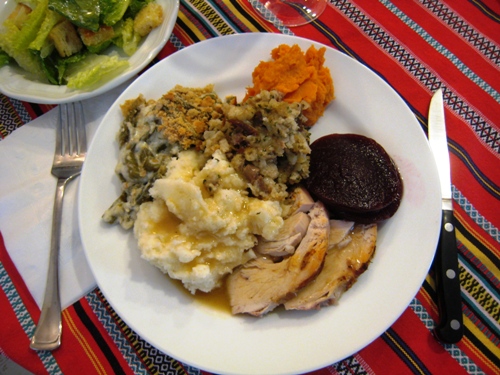 We had a wonderful Thanksgiving on Thursday. My brother JJ came as well as our friend Kimmy. We ate way too much and talked a lot. Our guests even did us parents a favor and took the kids to the park for awhile. It was a great day!
Except for the fact that I threw out my back — again. I did this in early October, lifting a heavy box from the cart at Costco. I did it this weekend, putting a 20-pound turkey into the oven.
Would y'all remind me to stop stooping and lifting heavy things? Oh my! What a reminder to enjoy good health and not take a pain-free back for granted.
So, it was with a strong helper — and mittened hands — that I checked the freezer this weekend. We've got about 20 meals' worth of food in the freezer. I'll be planning for our next freezer cooking days and topping off the freezer later this week. I've got some yummy ideas in store. Come by Friday to see my cooking plan and to join in the fun.
In the meantime, I've got my meal plan for the week.

28. Taco Bowls

29. Grilled Chicken, Vegetables, Quinoa Pilaf

30. Turkey Pot Pie, Green Salad

1. Grilled Tri-Tip, Roast Potatoes, Green Beans

2. Take-out

3. Pizza Night

4. Chicken Parmesan, Spaghetti, Salad
What have YOU got cooking?