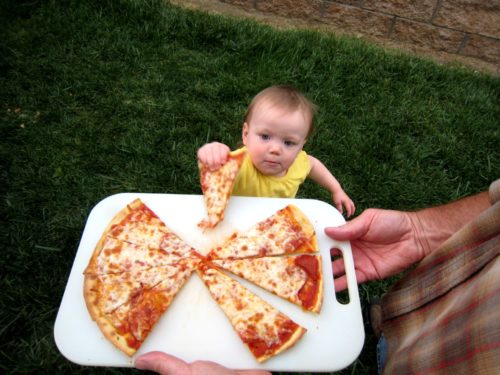 We experimented with a new pizza recipe this week. And as evidenced by Quick Hand FishBaby, it was a hit! The recipe was one for Matza Pizza, using this recipe from Tammy's Recipes. FishPapa and I had been wanting to try out cracker crust pizza at home, so when I saw her post, I knew that was the one to try. So yummy! I'm now on a mission to figure out if I can turn this crust into a freezer component. I've really enjoyed some of the new homemade convenience items I made last Freezer Cooking Days, including but not limited to Butterhorn Rolls, Focaccia, and Cinnamon Rolls. It's been wonderful to have these homemade breads all ready to pop in the oven or rewarm. I am really hoping that I can add Matza Pizza to my list. Yummy! As usual, freezer cooking saves the day for me.
18. Chicken Cacciatore – The chicken breasts are frozen in a seasoned tomato sauce. I will most likely thaw and then cook in the crockpot and serve over pasta.

19. Spice-Rubbed Fish, Rice, Salad, Cheddar Biscuits – This is just a fun night of cooking and experimenting.

20. Taco Night – I precooked the taco meat and stored it in the freezer along with a bag of grated cheese. At dinnertime, I just warm the meat and the taco shells from the pantry and add shredded lettuce and the thawed cheese.

21. Pasta w/ Meatballs, Salad, Focaccia – The red sauce, meatballs, and foccacia are from the freezer. I'll cook up fresh noodles and toss a salad.

22. Rice and Beans – The cooked beans and grated cheese are ready in the freezer. I can thaw them the morning of and cook up a pot of Mexican Rice that night.

23. Pizza Night – Homemade Pizza, Veggies, and Ranch Dip – The cheese is already grated and some of the pizza toppings are already prepped.

24. Meatloaf and Mashed Potatoes, Salad, Rolls – Everything but the salad is in the freezer.
Whatcha got cooking this week at your house? Share it at Menu Plan Monday!