Shopping list of sales matched with coupons?
Now it's time to figure out how to take these deals and make them work to feed your family. See those beef tacos? Bargain meal. 'Tis true.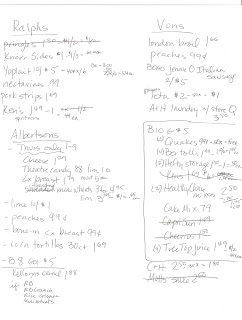 Remember this worksheet? I explained a few weeks ago how I go about planning my shopping trip. I sift through the ads, jot down the great deals or the items that we absolutely need, and then match them up with the coupons I have on hand. I don't always go to all the stores in my area, but we live within four miles of each one, so it isn't a problem to do it if the deals are really good.
Today I'm going to show how I would plan my meals based on the above worksheet. You can see that there were a number of "proteins" on sale that week: chicken, pork strips, London broil, and Italian sausage. Other items to work into meal planning from those sales include: corn tortillas, cheese, peaches, nectarines, yogurt, and pasta sauce.
I normally stock certain basic ingredients, such as flour, eggs, pasta, pinto and black beans, and rice. I try to get them on sale, but you have to spend some money to eat. I buy fresh produce at great prices from a small local market, purchasing a lot of whatever's on sale each week. I work these ingredients into meals with the items like those listed on this worksheet.
So, here's what a menu plan based on these sales would look like. (The items in parenthesis represent sale items.)
Breakfasts: cereal, yogurt, peaches, and nectarines. I would add a few other meals to our plan, like eggs and toast and other homebaked goods to have some variety.
Lunches and Dinners:
Queso Fundido, beans and rice (using sausage, cheese, corn tortillas)
Pasta with Italian Sausage, bread, and salad (pasta sauce, Italian Sausage)
Carnitas Soft Tacos, beans and rice (pork strips and corn tortillas)
Bean Tostadas (tortillas)
Lasagna, garlic bread, and salad (pasta sauce, cheese)
Sauerkraut and Spare Ribs, boiled potatoes (pork strips)
Grilled Chicken, Salad and Rice Pilaf (chicken)
Grilled Steak tacos, rice, and beans (London broil, tortillas)
sandwiches
snacky lunch (cheese, fruit)
other meals built from our stockpile
If we didn't want to have Mexican food so often in one week, I could just store those sale items in the freezer to eat later, but I'd know that I had the fixin's. That would be growing a stockpile to choose meals from in later weeks.
Obviously, I would need to purchase other items to fill out these menus if I didn't already have them on hand. But, hopefully, I could draw from my stockpile. If not, I'd add the needed items to my shopping list.
Maximizing my savings through coupons, sales, and menu planning – this definitely works for me.
Do you shop from the sales? Got a trick? Please let us know.