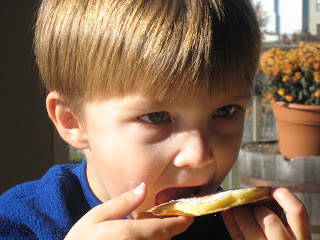 Don't have pancake syrup? Powdered sugar works in a pinch!
This week I'm excited for several reunions and special events. FishPapa has an extended holiday vacation, so I'm happy to have him home, sleep in, relax, eat his creative pancakes, and maybe get some projects done.We're spending today with my family: my parents and four siblings. I haven't seen my sisters in months, so I'm really happy to have some girl time with them. And as if that's not fun enough, our friends Jesse and Crystal are coming to visit this week with their three kiddos. Yeah!
As a result of all this family fun, I hope not to be cooking super elaborate meals, but to spend time with loved ones, instead.
End O' the Year Meal Plan
Sun – at the grandparents
Mon – on the road
Tues – spaghetti and meatballs
Wed – mixed grill, rice pilaf, salad, foccaccia
Thurs – New Year's Snacky Dinner
Fri – Turkey Dinner with all the fixings (most of this is in the freezer – already prepped!)
Sat – Shredded Beef Tacos
Starting January 1, I'll be partnering with Crystal in an Eat-from-the-Pantry Challenge. Out with the Old and In with the New. I hope you'll join us!
What are you cookin' up this week?
** For more meal planning inspiration, visit I'm an Organizing Junkie for Menu Planning Monday.