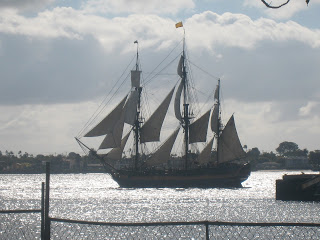 We saw several ships like this one yesterday in San Diego Harbor. Magnificent!
This week is a busy one: The regular routine of school, housework, life, plus some important writing projects, a playday with friends, FishPapa's Birthday, and of course, my Birthday Cake Round Up on Thursday. I am hoping for "sunny skies and fair weather" as far as all this is concerned. But, who knows what storm clouds could be waiting for us? Illness, crabby children (or moms), malfunctioning computers – all is possible.
I can't control the weather but I can batten down the hatches. Life is just like that. You never know what lies ahead. But, I am going to hope for fair weather, yet plan for contingencies. And having a meal plan is a way to plan ahead. If I at least know what we're going to eat and have the ingredients at the ready, I won't have to think about that in the midst of the craziness of life. And I need all the extra brain space I can get!
And on that note, I've got an easy menu plan for the week:
Bean tostadas, fruit salad
Roast chicken, roast potatoes, green beans
Beef stew, mashed potatoes, broccoli, green salad
Vegetable-beef soup, popovers
Homemade pizza, salad
Bday dinner: grilled tri-tip and shrimp, rice pilaf, salad, garlic bread
Lasagna (already made and ready in the freezer), salad, bread
I'll be making use of the following techniques to speed up mealtime:
1. Prepping dinner in the morning: almost all of the things I have planned for the week can be made ahead of time, except perhaps the popovers. For that, I can measure out the dry ingredients and get the pans ready.
2. Using my crockpot: roast chicken, stew, and soup can all go in the slow cooker in the morning and I won't have to do much thinking about dinner.
3. Freezer meals: While I haven't had the time to do Once a Month Cooking, I have doubled a few recipes lately to tuck into the freezer for later. Lasagna is one of those that we'll be enjoying this week.
4. Using my bread maker: This is a must-have tool for my pizza dough. It makes pizza night SO easy!
What do you do to plan for stormy weather? Have you got a back-up plan for mealtimes?
Related: Check out I'm an Organizing Junkie every Monday for all sorts of meal planning inspiration.