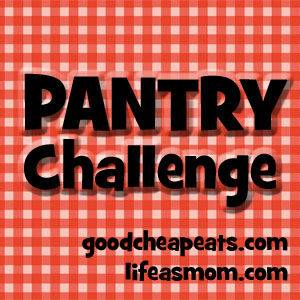 This weekend, I went to survey the status of the freezer. I was wondering if perhaps we were scratching the bottom of the barrel. But, no.
I found a few freezer meals and — lo and behold — a whole turkey, several chickens, and a few roasts. So, you can guess what we'll be eating in the next two weeks. I also froze most of our Christmas ham, so I have that to experiment with.
We'll be good on protein. I'm just not sure about the rest of the meal. There are plenty of carrots and green beans. We've got some potatoes and pasta. The rice is gone, but there's always quinoa.
"There's always quinoa."
You says that?!
Anyway, the Pantry Challenge is going fairly well over here. Getting sick didn't help. But, that can't be helped.
You can read what we're actually eating here and see what I've bought this month here and here. Want to join the Pantry Challenge? It's never to late. Link up here.
As for the meal plan for the week?
Well, that's here:

Breakfasts — all with fruit and yogurt
Cereal
Rice Pudding
Coffeecake

Lunches — all with veggies

Dinners
Roast chicken, potatoes, salad
Baked chicken, quinoa, green beans
Chicken Noodle Casserole, Green Salad
Ham and Potato Gratin, Vegetable, Rolls
Beef Taquitos, Beans, Rice, Green Salad
What's cooking at YOUR house?
Don't forget to visit Menu Plan Monday for more ideas.