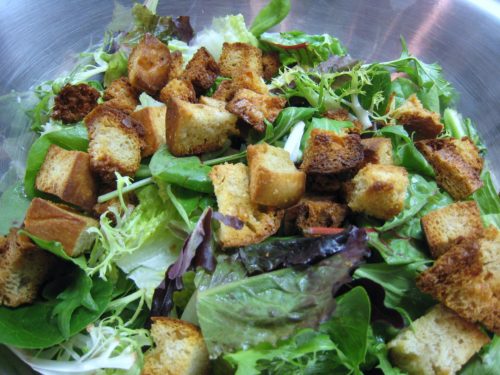 Having taken an inventory of my freezer recently, I discovered that I have a lot of delicious meals yet to serve. Thursday or Friday I'll be adding to that stock, but I'm so happy that there are quite a few meals in reserve. That makes for easier dinnertimes. You may notice a lot of salads this week. We're working on adding more vegetables to our diet.
This week's menu:
Mustard Chicken, Roast Potatoes, Green Salad – Prepared the marinade, pour it into a freezer bag, add the chicken, seal, label and freeze. The chicken will marinade as it thaws. On serving night, FishPapa will head to the grill while I make a salad and put the potatoes in the oven.

Taco Night – Cook and season taco meat, pack it in a plastic freezer box and freeze. Grate cheese, place in freezer bag, seal, label, and freeze. On serving night, I'll shred lettuce and chop tomatoes.

Chicken and Hominy Chili, Cornbread, Veggies, and Dip – Cook the chili, cool, package, label, and freeze. Combine dry ingredients for cornbread in a quart-size bag, label with baking directions, and freeze or store in pantry. On serving night, mix up the cornbread, reheat the chili.

Pasta with Red Sauce, Green Salad, Foccacia – Cook up a big pot of pasta/pizza sauce, divide into freezer containers, label, and freeze. Bake foccacia, cool, and freeze. On serving night, warm sauce while boiling a big pot of noodles. Make a salad and rewarm the foccacia.

Lasagna, Green Salad, Rolls – Prepare lasagna, wrap, label, and freeze. Bake rolls, cool, wrap, label, and freeze. Thaw both prior to serving. On serving night, bake lasagna, make a salad, and warm the rolls.

Pizza and ChiChi's Italian Salad – Slice pizza toppings, prepare sauce (see above), grate cheese. Wrap each individually and freeze. On serving night, prepare pizza dough, assemble pizzas and bake while making a salad. (You can freeze pizza dough, but we don't like it as well.)

Minestrone Soup – not yet a freezer meal, but I'm going to experiment with it this week.

EASTER dinner: Grilled Tri-Tip, Mashed Potatoes or Cheesy Potatoes, Crystal's Butterhorn Rolls, Green Salad, Chocolate Cheesecake – going to prepare much of this this week and freeze. In fact, come back tomorrow for a free download illustrating how you could do it, too.
Freezer Cooking helps me lighten my workload. How do you make life easier at your house?
For more meal planning ideas, visit I'm an Organizing Junkie.