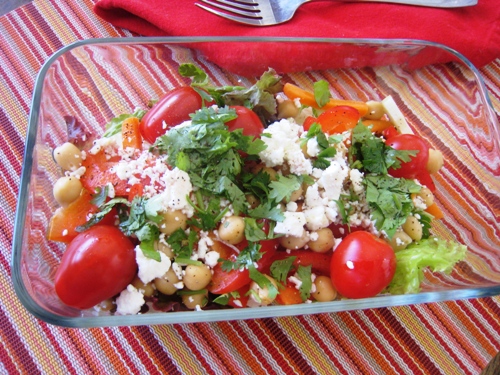 I've been doing a "Pantry Challenge" for the last month. It has proved to be a success, I think, with my grocery spending at $455 and our eating out at $115, we were several hundred dollars under what we normally spend.
(For the curious, we typically spend about $600 a month on groceries with another $200 for dining — for a family of 8, 5 of them male.)
And while I am itching to get back to regular shopping, I also have a freezer still bursting with treasure. I decided that unless the meat deals are screaming my name, we'll eat from the freezer for a little while longer, and continue buying dairy, produce, and some dry goods.
I'm seriously amazed at how much we still have. I must have a big freezer….
Anywho, here's the meal deal for the week:

Breakfasts
(all served with fresh fruit or applesauce)
Pancakes
Oatmeal (either baked, instant, or not mushy)
Waffles
Granola
Muffins and Smoothies
Rice and Toppings
Donut Run ('cause that's how FishPapa rolls)

Lunches
(all served with fresh fruit or veggies)
Sunbutter Sandwiches
DIY Pasta Salad
Snacky Lunch
Calzones or Soup
Burritos
Sauerkraut and Brats, Potatoes

Dinners
(all served with salad or steamed vegetables and rolls or bread)
Pasta with Crockpot Red Sauce
Roast Turkey (possibly grilled if it's hot), Potatoes
Turkey Pot Pie
Beans and Rice
Grilled Fish, Quinoa Pilaf
Grilled Hamburgers on Homemade Buns
Eat Out ('cause that's how I roll)
What's YOUR meal deal this week?
Don't forget to visit I'm an Organizing Junkie for more meal planning inspiration.