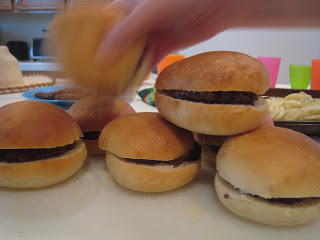 It was so exciting to go to the grocery store this week. The great sales were such a welcome back, too. I shopped 'til I dropped, and then we feasted.
One of the dining highlights of the week (besides all the cereal) was the dinner of sliders (mini hamburgers) that I made over the weekend. Since I made my own hamburger buns, I could make each bun and hamburger patty fit. This size was easier for the kids to eat. And so good!
Now that I have completely stocked my cupboards, I'm rarin' to head into the month and a fairly busy season. Birthdays, graduations, anniversaries, house guests, and 15 doctor's and dentist's appointments — all are in my future over the next few weeks. I'm so thankful that God provided some great stockup sales this past week. It made it easier for me to really buy a lot and make sure the larders are full. As a result, we are set on many regular pantry items which will make meal planning so much easier in the coming weeks.
Here's my two week meal plan:
Costco pizza – on the way home from a family field trip
Pasilla Enchiladas, Beans, Rice, and Salad
Bean Tostadas
Meatloaf, Mac and Cheese, Salad
Pasta with Red Sauce, Veg, and Garlic bread
Lasagna, Salad, and Garlic Bread
Mother's Day – cooking provided by the FBA
Bean and Rice Burritos
Queso Fundido, homemade corn tortillas
Peanut Butter Chicken
Nachos
Carnitas Soft Tacos
Chinese Chicken and Noodle Salad
Big Family BBQ – meat to be determined by sales
For more meal planning maniacs, visit I'm an Organizing Junkie.