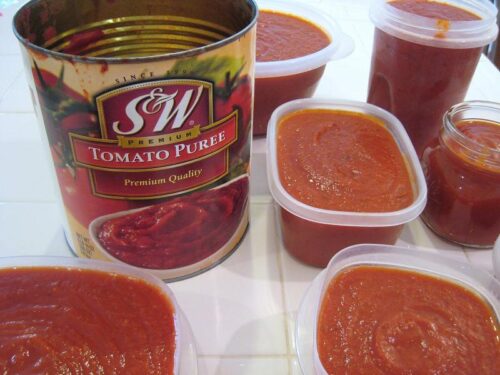 A couple weeks ago I spent a couple days pre-prepping a few meal components. Having homemade convenience items like cooked ground beef, shredded chicken, and tomato sauce on hand makes dinnertime preparations a snap. Here's how it's playing out in this week's dinners:
Chicken Parmesan – This is our typical Valentine's dinner since it's the meal I prepared for FishPapa on our first date. I already have homemade sauce is ready to go and will add it to Crispy Chicken and cooked spaghetti with Garlic Focaccia and Steamed Broccoli on the side. Edited to add: I healthified my Chicken Parmesan tonight – delish!
Chicken Soft Tacos – My husband is great at making corn tortillas from scratch. We'll serve them with cooked, shredded chicken from the freezer as well as other taco toppings and round it out with beans and Mexican rice.
Baked Chicken and Rice – I got a great deal on bone-in chicken breast and packaged it for the freezer in marinade. I'll bake this in the oven on a bed of uncooked rice and chicken broth for an easy Chicken and Rice Bake.
Stuffed Shells – This dish is going to be an experiment. I'm using cooked, ground beef and red sauce from the freezer. I'll add those and a cream-cheese sauce to large cooked shell pasta. If it's good, you'll hear about it.
Beans and Rice – In my efforts to reduce expenses, we're bringing back our weekly beans and rice dinner. Usually, there are cooked beans in the freezer, but the supply is gone. So, time to cook up a few more pounds
Pizza night – I use my regular red sauce for pizza topping and have grated cheese blends and a huge supply of pepperoni in the freezer. Our newest pizza topping, however, is olive oil, garlic, crushed red pepper, topped with cheese, shredded chicken, red onion and tomato. So yummy! Most of the kids prefer pepperoni, though.
Peanut Butter Chicken – I've got chicken marinating the freezer and will grill it and add to the noodles, veggies and sauce of this dish. I've started using 1/2 whole wheat spaghetti mixed with 1/2 regular in order to increase our whole grains. With a flavorful sauce, no one notices.
What are you eating this week? Don't forget to visit I'm an Organizing Junkie for all kinds of menu planning inspiration.