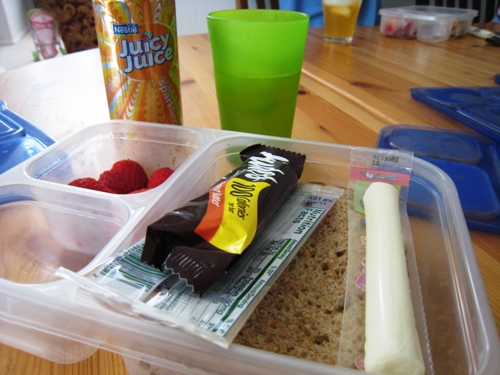 A few weeks ago I told you about my brilliant-thought-of-this-two-years-ago-but-never-really-stuck-to-it idea. That is, packing lunches the night before even though we stay home for lunch. Well, I'm pleased to report that this homeschool brown bag plan is a keeper.
After two weeks of the boys and I faithfully packing lunches each night, I can say that we are saving amazing amounts of time during our homeschool day.
Plus, there are fewer complaints at lunchtime. Since the boys help pack, they know what to look forward to at mealtime. And I think I might get a little more kitchen help in preparing some more homemade snacks.
An added benefit is that FishPapa is generally getting a better lunch as well, instead of the haphazard "throw it together at 5:30 am before I'm fully awake" trick that I've been pulling these past few months. In fact, he loved our homemade granola bars so much that he has offered to bake "hundreds" of them with me during Freezer Cooking Days this month. Whoohoo!
Things are not going perfectly on the food front, but we are testing out some problem solving ideas and seeing success. And it seems to be shaping my freezer cooking plan for the month as well.
Here's my meal plans for the week:
Breakfasts:
Since I've made so many convenience items, I've recently let the boys choose what the want from a range of easy options:
yogurt
fruit
toast or bagel
Every couple days I make eggs or pancakes, but otherwise, breakfast is a simple pre-made affair.
Lunches:
Sandwiches – turkey or peanut butter & honey
PB Crackers
Side dishes: hard cooked eggs, fruit, fruit leather, veggies, granola bars
Dinners:
(Following September's theme)
Chicken Skewers, rice, vegetables
Pasta with Red Sauce
Tacos
Beef Enchiladas
Hamburgers
What have you got cooking this week?