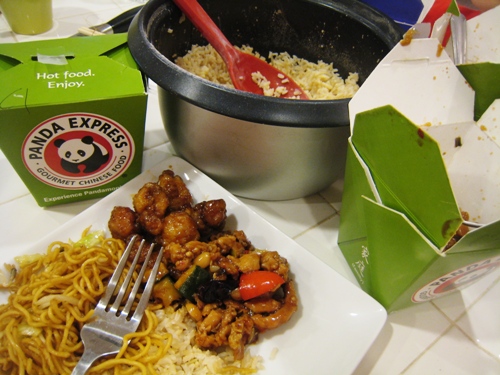 Last week, I shared with you our meal plan for the month. And with many of my plans, not everything went according to schedule. Case in point:
Sunday evening I got sucked into the vortex called Walmart. By the time I made it out, my husband called to say they were starving. (It was 5 pm, but that time change was not kind to us.) Rather than wait the extra hour before I was home and could get dinner prepped, we chose to make that night our take-out night.
So, Monday we had both the 7 Layer Nachos (a freezer meal) and the Tri-tip. Yes, we felt fat and happy that night.
Tuesday was FishBoy10's birthday. He chose KFC for his dinner. Easy on the prep, heavy on the fat count for the week.
Wednesday's Spaghetti and Meatballs were great. Easy freezer meal to pull together.
Thursday my parents were here. My mom just makes me relax and so instead of cooking, I replaced that dinner plan with an impromptu Sandwich Night.
Friday night we had tacos as planned. Saturday, I had a major chicken thawing fail. So, I landed on my old stand by – pasta with red sauce. Not quite according to plan, but not take out either.
FishBoy10's birthday cake
Not sure if it will go the way I think it will, but here's the week's plan:
14. Birthday Dinner – Costco Pizza
15. Roast Chicken, Mashed Potatoes, Cranberry Sauce, Green Beans
16. Meatloaf, Rice, Green Salad
17. Spaghetti with Red Sauce, Salad, Garlic Bread
18. Field trip day — eating out
19. Pizza Night
20. Tacos
Do your meal plans go the way they want them?