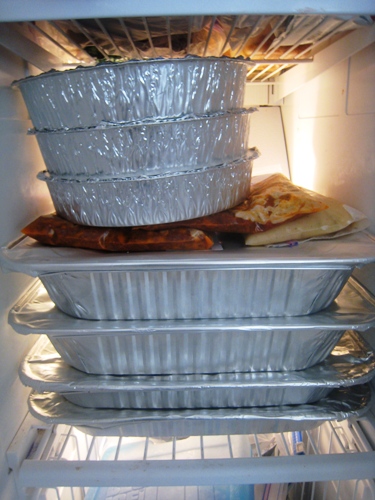 Years ago I made "once a month cooking" a regular practice. Every 4-6 weeks, I would spend 2-3 days shopping, planning, and cooking so that I could save hours of time, volumes of stress, and a few pennies by making many meals at one time.
Every year I've done this about once or twice in the 12-month period, and I'm always so glad when I do. It's refreshing to have a freezer stocked with homemade meals all ready to go. Since we've got a new FishChickie arriving in about 9 weeks, common sense tells me to get the freezer filled. If you know you have a busy season ahead, whether that is packing for a move, lots of sports events, the holidays, a new baby, whatever, stocking your freezer for a month or so, will save you tons in the long run — in sanity as well as in your pocket book.
Usually stews and casseroles lend themselves well to this type of meal prep, but I've done lots of other menus as well, including Peanut Butter Chicken and Pizza. In summertime, mixing up a bunch of marinades and freezing the meat in the marinade is a huge timesaver. But, more on that later.
One thing I need to do in preparation for this is to defrost the big white monstrosity in my garage. But, in order to do that, we need to use up what we have, defrost and wash down the garage freezer as well as the kitchen side-by-side. And while I'm at it, I think a good cleaning of the pantry is probably in order, too. No, I don't really want to do those things. But, if I'm thorough now, it will help me in the long run.
In some ways, this round of cooking will be an experiment as I will be applying some of my new frugal ways to once a month cooking. You will get to be first hand witnesses: will this be a success or a flop? In the past I've chosen my menu based more on what I wanted to eat in the next month rather than what was necessarily on sale. This time, coupons and sales will dictate my menu. However, since we'll be using up what's in the storehouses over the next few weeks, I may be able to get myself a little more wiggle room in the $400 budget. We shall see…. Say a prayer for me, K?
So, phase one:
Clean, organize, and inventory the pantry, frig, and freezers.
See how far my storehouse will stretch in the next couple weeks. That means limiting what I buy to milk, fresh produce, bare necessities and "screaming deals" that I might use in OAMC.