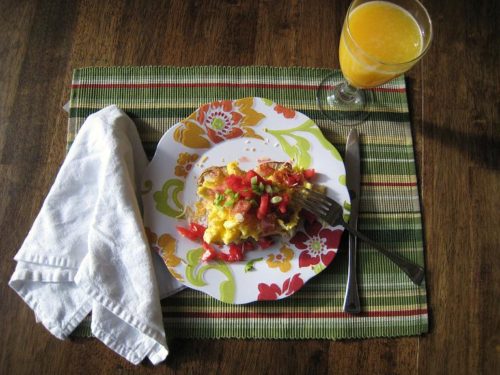 Early one morning this week, I woke to find this post by The Ungourmet. A Loaded Breakfast Potato sounded so yummy and we had all the stuff for a modified version of it. I must say it was delicious. Want to make one?
Loaded Breakfast Potato

baked potatoes
scrambled eggs
diced tomatoes
crumbled bacon
grated cheese
chopped green onion

Go to it!
The month is winding down this week, and I'm gearing up to cook up a storm. The freezer isn't quite empty, but I get nervous when my choices start to dwindle. I'm weird like that. Here's my meal plan for the week.
25. Paella with Shrimp, Green Salad, Baguette
26. Pasta w/ Red Sauce, Salad, Cornbread – The red sauce is in the freezer. I'll cook up fresh noodles, mix up some cornbread, and toss a salad.
27. Spicy Fish Tacos – love this spice mix!
28. Pancake Supper
29. Meatballs and Mashed Potatoes, Salad, Rolls – The meatballs, mashed potatoes, and rolls are in the freezer.
30. Pizza Night – – Homemade Pizza, Veggies, and Ranch Dip – The cheese is already grated and some of the pizza toppings are already prepped.
Have you got a meal plan this week? Hop over to I'm an Organizing Junkie and be inspired.