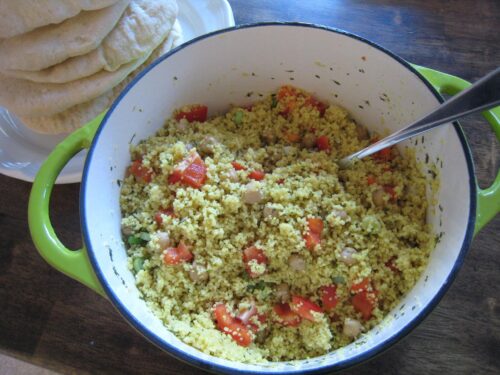 Last week I mentioned how I like to plan our meals a month at a time. If you're interested in doing this yourself, read my tips for monthly meal planning. It is totally doable!
This month is a crazy one already. Not only have we been battling coughs and colds, but my father-in-law has been staying with us while he attends a training class for his business. Couple that with my out-of-town trip to Nashville and we find a household that is not necessarily in a groove.
To make things a little easier for my meal planning, I created this planning sheet, Menus and Groceries List. Down one column I can list all the meal ideas I have for the week, breakfasts, lunches, dinners, snacks, and desserts. Down the other column, I can list the little sundry grocery items that I might not already have in the pantry. At a glance I can see what my meal plan is as well as what FishPapa might need to pick up on his way home from work or what I need to work into my weekly shopping trip. Feel free to use this planning sheet if it helps you organize your menus and grocery lists.
That said, this week our meals include:
Breakfasts
scones and smoothies
fried eggs, bacon, and toast
muffins and fresh fruit
pancakes and Litl' Smokies
Petit Dejeuner
granola w/ milk or yogurt and berries
Cheerios
Lunches
PB&J
Beans and Rice
Snacky Lunch
Stuffed Focaccia
Pasta Salad
leftovers
Dinners
Pasta with Red Sauce
Chinese Chicken Salad
Paella w/ Shrimp and Chicken
Chicken Gyros, Couscous Salad
Beans and Rice
Pizza Night
Chimichangas w/ Ground Beef
What are you cooking up this week?
Don't forget to visit Ultimate Recipe Swap this week as we share all sorts of Valentine's Inspiration. Can't wait to see what you're cooking up for your sweeties! And make sure you check out the 300+ meal plans at I'm an Organizing Junkie.