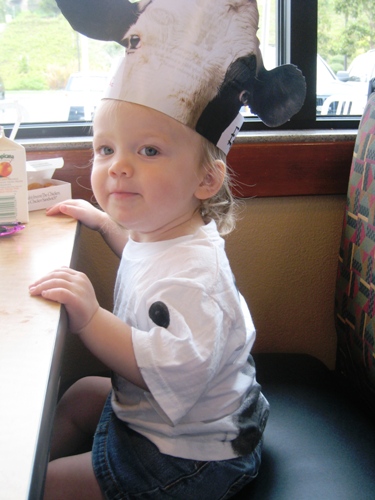 So, last week I shared my meal plan with you. But, as it turned out. I followed it very little. You see, San Diego area Chick-Fil-A restaurants held Customer Appreciation Week. They offered free dinner every night. Every. night. And except for one night of opting out of the Spicy Chicken which is too spicy for our little people, we took them up on their offer.
Every. night.
When I questioned the family's plan, someone piped up, "What part of FREE do you not understand?" Clearly, Mrs. Frugal Friday has created a monster.
But, I can't complain since I loooove the Chicken Strips Salad with Caesar Dressing.
Needless to say by our fourth fried chicken meal of the week, FishBoy13 could only lie on a booth bench and groan. And while we would really, really, really like to win Chick-Fil-A for a year, everyone in the family is ready to get back to our regularly programmed schedule this week.
Our Meal Plan without CFA
Here's our meal plan for the week, including a brief explanation of how freezer cooking works into it.
12. Pasta with Meat Sauce, Steamed Veggies, Garlic Bread – The pasta sauce is a great recipe for freezer cooking as is the garlic bread. Boil water, heat sauce, steam veggies, and throw the bread in the oven.
13. Tacos, Beans, and Rice – The taco meat and the beans are precooked and waiting in the freezer. Rice comes together quickly on the stove. Since we have tortilla chips, we may turn this meal into a Taco Bowl meal.
14. Grilled Chicken, Pasta Salad, Fresh Fruit – The chicken breast is marinated in a freezer bag in the freezer. I'll just pull it and thaw 1-2 days ahead of serving. Hubs will grill that while I can make the pasta salad ahead of time. If I play my cards right, I could even cook double the pasta on Monday to make pasta salad for Wednesday.
15. Queso Fundido, Corn Tortillas, Green Salad – Queso Fundido is a fantastic freezer meal. Hubs will make corn tortillas while the meat and cheese warm. A big salad can be made ahead.
16. Pizza Night – Pizza Night is getting easier since I started freezing the dough. I make freezer kits with the dough, a bag of cheese, and a container of sauce. You can add other freezable toppings as well like cooked meats, flash frozen veggies, etc.
17. Meatloaf, Mashed Potatoes, Green Salad – The meatloaf and the potatoes both freeze very easily. Green salad takes just a few minutes.
18. Hamburgers, Potato Salad, Fruit – I preformed and seasoned the burgers, so those will be easy to throw on the grill. Potato salad is quick as is a fruit side dish.
What will YOU do to make this week's meals easier?
PS. Don't forget to vote for me and my herd so we can win Chick-Fil-A for a year! We're the ones from COW-lifornia. 😉