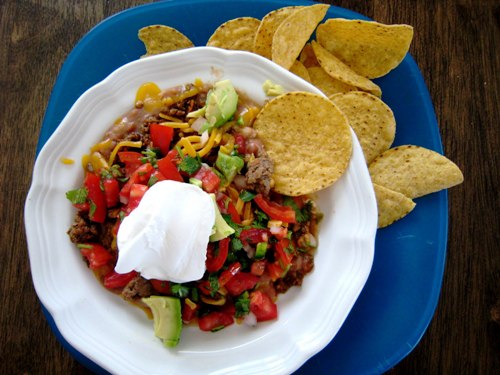 Once you get into the habit of meal planning for the week, you may want to get a little more ambitious and plan for a longer length of time, like a fortnight (2 weeks) or a whole month.
How to Plan for a Month
1. Print a calendar – I like to print out a month calendar to fill in my meals. In this way I have right in front of me the placement of weekends, holidays, birthdays, etc. You can print out this Monthly Meal Grid or this Monthly Meal Planning Sheet.
2. Survey your freezer and pantry – I've been keeping a good record of my freezer inventory this month (more on that later this week), so I know what we already have. I plugged those into my calendar.
3. Plan some new meals based on current sales – I don't know what will be on sale in the coming weeks, but I know what bargains are available now. So, I'm going to stock up on the proteins that I know I'll want for my November meal plan. I'm also going to make a list of side dishes that I might want to keep my eyes open for in the sales.
4. Cook ahead if possible – One of the reasons that I'm planning the whole month is to save myself some time – planning time, shopping time, cooking time. One way to maximize on time savings is to cook ahead.
Since I'm also going to be doing some freezer cooking this week, I was able to place those meals on my calendar, incorporating the dozen meals I have left in my freezer with the new ones I'll be adding.
Even if you don't do a BIG cooking day, having a monthly meal plan will help you think how you can cook once and maybe eat three times from the same amount of work.
Our Monthly Meal Plan
While "the plan" is always subject to change, I have a road map for the week's ahead. For November, my "plan" is as follows:
Southwestern Grilled Chicken, Rice, Salad
Pasta & Spaghetti Squash w/ Red Sauce, Foccaccia*, Green Salad
Touchdown Chili, Cornbread, Veggies and Dip
Chili Dogs on Homemade Buns, French Fries, Fruit Salad
Pizza and Chi-Chi's Salad
BBQ Sandwiches, Potato Salad, Veggies and Dip
Grilled Tri-Tip, Baked Potatoes, Green Salad
B-day Dinner! Sauerkraut and SpareRibs, Boiled Potatoes, Bday Cake
Baked Chicken, Mashed Potatoes, Cranberry Sauce, Steamed Broccoli
Taco Soup, Indian Shuck Bread, Green Salad
Pizza and ChiChi's Salad
B-Day Dinner! Lasagna, Pasta w/ Sausages, Foccaccia, Green Salad
Bernie's Grilled Chicken, Grilled Veggies, Salad, Quick Seasoned Rice
Roast Chicken, Garlic Potatoes, Green Beans
Summer Rolls – no, it's not summer – but these are easy and delicious!
Tacos
Pizza and ChiChi's Salad
Pasta w/ Red Sauce, Green Salad, Garlic Bread
Hamburgers on Homemade Buns and French Fries, Veggies and Dip
Potstickers w/ Dipping Sauces, Rice, Broccoli
BLTs, Potato Salad
Pasta w/ Meat Sauce, Corn Muffins, Green Salad
THANKSGIVING w/ the Grandparents
at the G'parents
at the G'parents
Chicken Stir-fry w/ Sauteed Rice Cakes (an experiment w/ Asian ingredients)
How about you?
What do you do? A month in advance? A week? A day? How do you meal plan?
For more meal-planning inspiration, visit I'm an Organizing Junkie every Monday for Menu Plan Monday.
* Recipes to follow