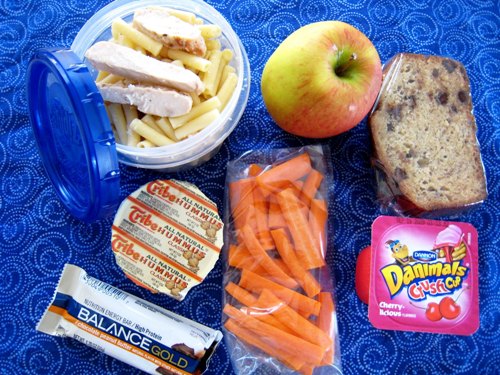 As you know we're big gluttons, er, I mean foodies, around here. Each of the FishFam loves to eat. And lunchtime is no exception.
The best way for the kids and I to have an easy lunch is to pack them a boxed lunch even though we're home for lunch most days. FishChick2's food allergies threw a slight wrench in that plan since many of my go-to items contained peanuts. Now, that we've discovered sunbutter, I think kid lunches will be a little easier.
Packing Husband Lunches
My husband is gone everyday at lunchtime. He can go out to eat with his co-workers, and while a quick burrito isn't terribly expensive, bringing food from home is often better for him and our budget. While he does have access to a microwave at work, he also likes to exercise during his lunch break, so it's nice for him to have something quick to grab instead of going out to eat or hanging out in the break room.
Standard fare in his lunchbox includes the following:
a sandwich, wrap, piece of chicken, leftovers, or pasta salad
energy or granola bar
fruits and veg
yogurt
sweet snack like cookie or banana bread
string cheese or cheddar slices
crackers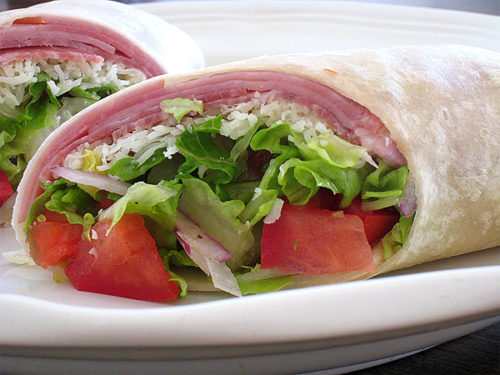 Making a wrap for his lunch is a new meal idea we're testing. I simply fill a tortilla with the sandwich fixings and if I wrap it the right way, it's a perfect "walk-and-eat" kind of lunch.
This is what works for us in this season, and we're comfortable working out a budget for a meal out each week, especially on Fridays and overtime weekends.
Reader Q&A:
A reader wrote with a perplexing situation. I'm not sure how to answer since our situation is slightly different. So, I thought I would pose it here and let you all answer:
My husband has a hearty appetite. Surprisingly, he is not a large man. Tall, yes. Large, no. He has a physically strenuous job as an electrical lineman (not house electrician – the big electric lines). He works outside in all elements, even today where, in northwestern MN, it is 0 degrees and blowing wind of around 30 miles per hour, which takes more fuel to keep him warm and energized. And since he is outside, that means no microwave to warm up his body with toasty leftovers that keep him satisfied and our budget in a personal satisfactory guideline.

So the common lunch…? A cold sandwich. He hates the sight of a sandwich but to help him through the day until dinner, he chokes down the half I make everyday. Oh, I've tried fanagling with it and mixing it up in all sorts of mathematical formulas and ingredients. A sandwich still remains a sandwich. And every day he gets the fruits, vegetables, yougurt, snack food, chips, drink and dessert.

I've tried salads with added protein (ie. meat, cheese, etc.), cold pasta dishes, soups and canned pastas in the thermos that are inevitably cold by the time he eats lunch. Once in a while, he and his partner even carry along a tiny, portable gas grill to throw on an occasional venison steak but not the everyday guarantee – especially on days like today.

So how do you fill your husbands stomach with good, nutricious, hearty lunches without busting your grocery budget?
It's an excellent question. When we lived in Kansas where temperatures could get very cold and hubs was also working out of doors, I packed "snacks" to keep him fueled throughout the day, but we found it was better to make room in our budget for hot lunches at inexpensive places like Taco Bell or Wendy's. He could easily eat from the dollar menu and walk out having spent about $3 or $4 a day.
While not the healthiest or the most economical, we realized that a chance to warm up and eat a hot meal made a huge difference in my husband's day. It was a nice break from the elements and a filling lunch. That worked in that season, and he usually spent his "blow money" on his lunches.
But, I'm sure there are other solutions to this dilemma. And I know the LifeasMOMers have some answers.
What would YOU do in this situation?