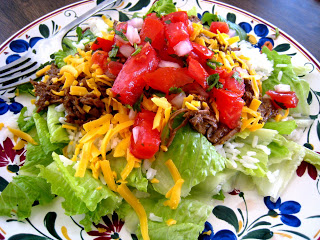 I was talking with someone last week and the question came up how many people I cooked for on a regular basis. When I said 9, the other said, "Wow. We had a company dinner last week and there were 10 of us total. That's a full table!" To be honest, I hadn't really thought about it before. But, that's a lot of people! No wonder it seems like I'm in the kitchen all. the. time.
I am in desperate need of some shortcuts. With four formal students in my homeschool, I am on my toes from 8 to 3 if I'm going to do it right. I really don't have the time to cook full meals three times a day.
Here are some of my troubleshooting ideas:
1. Use paper plates at lunch time to reduce the amount of time I take away from school and recess in order to clean everything up.
2. Pack lunches the night before. I do this once in awhile, but I think I need to step it up and do it every evening.
3. Spend one afternoon a week baking snacks, slicing cheese, prepping veggies, and making dips, so that we have things to munch on without my taking time from school or other tasks in order to prep yet another meal.
4. Keep up with my salad bar. It's been a great asset!
5. Meal plan more effectively, so that I can make double one night and serve the extra later in the week in another dish.
6. Do some freezer cooking after we move. I know this will take a load off.
That said, here are our dinner plans this week:
Hot Dogs and Brats with Grilled Veggies, Pasta Salad, Salad Bar
Shredded Beef Tacos, Beans and Rice
Hamburgers, Salad
Pasta with Sausage, Salad, Garlic Bread (cook 2x the pasta and use for pasta salad for lunch)
Pizza, Salad
Grilled Chicken, Rice, Salad
What are some shortcuts you take at your house?
For more meal planning inspiration, visit I'm an Organizing Junkie.