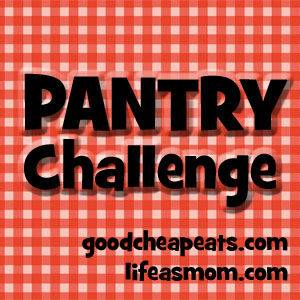 I'm entering week two of the pantry challenge. And you know something? I haven't told my family. And I don't think they've noticed anything different.
We also haven't run out of milk. That could be part of it. Only time will tell for sure.
But, even though I made some grocery purchases this past week, I spent almost half of what I normally spend. Which has me thinking…. what have I been buying?
There's a growing list on the fridge of things I've run out of, but haven't found a good sale to justify buying more.
As I think of this Pantry Challenge, here are some of the benefits I am gaining from it:
Spend Less Money
I've set the grocery budget at $400 for the month, for groceries for our family of 8. This is $200 less than we normally spend each month on groceries. (We have a separate eating out budget that covers 2-3 meals of take-out per week.)
This past week, I went under budget, but we are rich in food. I have 10 pounds of potatoes, 10 pounds of bananas, 3 chickens, 5 pounds of butter, 6 pounds of cranberries, 6 pounds of apples, and other random items to show for it.
I think we'll do okay on "less."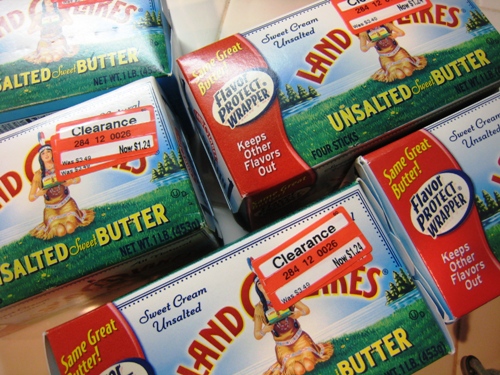 Renewed Enjoyment of Bargain Shopping
Since I have less to work with, I seem to be more excited about the challenge of stretching what I do have. Great finds like buck twenty-five butter and 69 cent cranberries can do that to a girl.
I look forward to the hunt in a way that I didn't back in December. Since I "don't have to have it," I don't feel pressured to buy.
Increased Creativity in the Kitchen
While last week's meals were rather plain, they were still tasty. And I enjoyed getting creative with  different dishes and making sure we enjoyed the meal — even if it was missing a standard ingredient or two. I felt like an adventurer making things I'd never made before like Cheesy Chowder with Butternut Squash.
More Intentionality
Thanks to the Challenge, I am making sure to plan better, to pull things from the freezer in advance, to count the hours before dinner and do I need to start the bread machine? Normally, I can get neglectful about those things.
The boundaries of my budget and the commitment I made not to go over help me not to just rush to the store for convenience items or to run through take-out. Plus, having an audience keeps me on the straight and narrow. 😉
That said, here's my meal plan for the week:

9. Beef Enchiladas, Beans, Rice, Salad

10. Pasta with Red Sauce, Green Beans, Cornbread

11. Beans and Rice

12. Shredded Beef, Mashed Potatoes, Gravy, Green Salad, Biscuits

13. Soup Night, Popovers

14. Grilled Chicken, Rice Pilaf, Green Salad

15. Tamales, Rice, Beans, Salad
Are you taking the Pantry Challenge?
How do you make the most of what you have?