Meal planning is one of those household tasks that I have traditionally enjoyed. Since I am such a glutton enjoy cooking and eating so much, thinking ahead to future meals has always been a favorite pasttime.
However, real life interferes with my dreams of elegant, four course meals. And that's okay. Someday my nest will be empty and I'll have way too much time to prepare fancy-schmancy meals.
Hopefully, I'll still have some teeth to chew with.
One happy compromise between creative food choices and getting food on the table that my kids will actually eat has been to create theme nights. Theme nights not only help me plan our week quickly, but they give constancy to my kids' week — and something to look forward to.
It helps that my current themes are easy, easy meals.
Sundays – Grilling
Mondays – Noodles
Tuesday – Tacos
Wednesday – Sandwich Night
Thursday – Mexican
Friday – Pizza
Saturday – Burgers, Hot Dogs, and Other Hand Held Items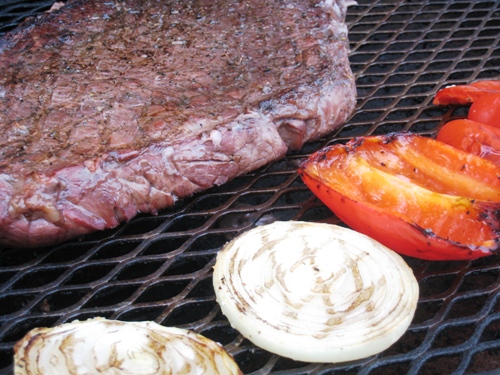 We've still got warm weather here in San Diego. So, these themes will be sticking for at least another month. Then, I'll be working in a regular Soup Night and a Crockpot Night. Golly, I might just revamp the whole list. But, for now, this makes my meal planning really easy.
Here's how this meal plan plays out this week:
Sunday – Grilled Steak Gyros on homemade pita bread, Couscous Salad
Monday – Spaghetti with Red Sauce, green salad, Cornbread
Tuesday – Carnitas Soft Tacos, Mexican Rice, Cooked Pinto Beans
Wednesday – Taco Joes on Homemade Buns, Veggies and Dip
Thursday – Beans and Rice
Friday – Pizza Night
Saturday – Hot Dogs, Potato Salad, Fruit
What have you got cooking this week?