Meal Planning Tips for Turkey Week
As an Amazon Associate I earn from qualifying purchases. For more details, please see our disclosure policy.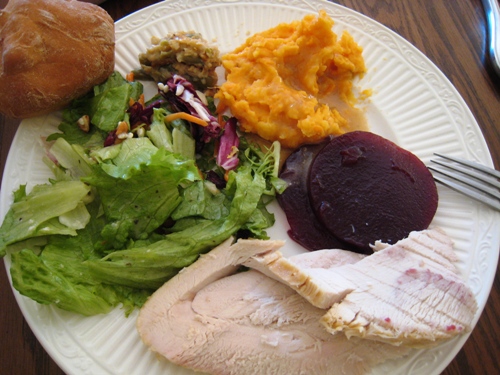 Thanksgiving Day is one of our favorite days of the year. We shift into relaxation mode around here. FishPapa has four days off work, so it's like a mini-vacation for our family with multiple ways to spend those days.
Relaxing
Since we're staying home this year, we'll have a lazy morning of cinnamon rolls, fruit, and yogurt. We might watch Macy's Parade or more likely too much Dora, but usually football is the channel of choice. Woe to DirecTV if there are any reception problems like there were two years ago.
And while ours will be a quiet celebration at home, I'm hoping to make it "nice." Probably should communicate to FishPapa and the boys that I'm hoping we'll actually get dressed on Thursday. And set a pretty table.
For my part, I want to take the Erma Bombeck approach this holiday. If I'll take the effort for company, I want to take the effort for my family. Too often those special things slip through the cracks when it's "just us."
Cooking
Thanksgiving Dinner is one of our family's favorite meals. I cook up our favorite dishes, and we eat until we're fat and happy.
I've had the last two years off from full-time kitchen detail, so I'm a little out of practice. I'm busting out my holiday dinner planning sheets to help me. These offer me a timeline and a game plan to getting a big meal on the table in a timely manner.
Many of you mentioned that your biggest turkey challenge is getting the bird thawed. I'm going to be clearing a shelf in the refrigerator for my turkey on Monday in the hopes that he'll be ready to cook on Thursday. I'm planning ahead and walking through my meal.
I'm also using freezer cooking to make this week easier. The stuffing I prepared earlier in the month and froze. And yesterday, I cooked up a lot of mashed potatoes to enjoy throughout the coming weeks.
You can download free printable meal planning sheets like mine, or you can buy my 125-page ebook, Organizing Life as MOM, provides 90+ printable planning forms, including several yearly calendars, meal planning worksheets, and daily to-do's as well as helpful content to get you motivated to manage better.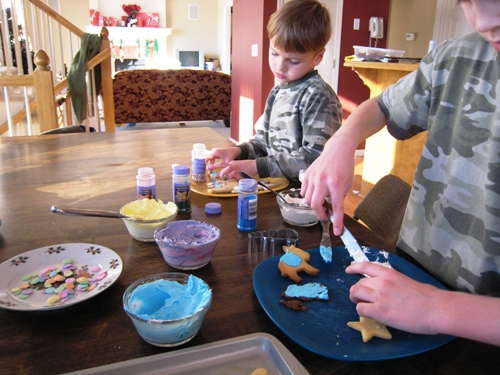 Baking
This weekend I hope to get a jump on some of our Christmas cookie baking, so I'm pulling out recipes and making a plan. The kids love to help. And while baking cookies with six kids can be daunting, I am trying to prepare myself as best as possible. I've stockpiled baking supplies as well as storage containers so that we can freeze most of the cookies after we've tested them. More on this later.
Meal Planning
It's clear now what a busy week this will be. So I've planned easy meals for the start of it. Freezer meals, easy to prep side dishes, soup night, and a little takeout should make for quick work at dinnertime.
Here's the lowdown:
21. Grilled Chicken and Vegetables, Rice
22. Grilled Tri-tip, Potatoes, Vegetables
23. Soup and Bread Night
24. Eating Out — Just 'cause
25. Thanksgiving
26. Pizza Night
27. Spaghetti and Meatballs, Salad, Biscuits
And no, we probably won't have enough leftovers for more than breakfast or lunch on Friday. We usually gobble down turkey sandwiches on Thursday night. If we do have excess, I'll make and freeze a turkey pot pie.
What's YOUR eating plan this week?
Looking for more meal planning inspiration? Pop over to Menu Plan Monday.