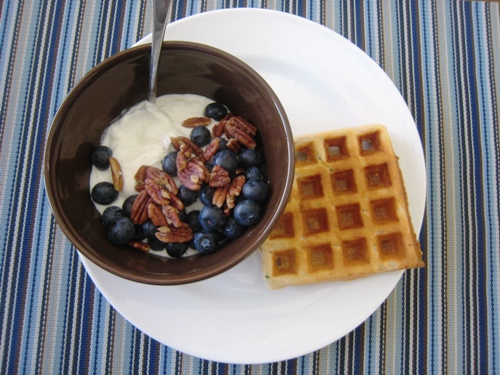 You know that I love my freezer. Soooo much so that I wrote a cookbook chock full of freezer-friendly recipes. Make ahead makes me happy.
But "make ahead" does not have to be limited to the freezer. In fact, there's a wealth of things that can be prepped in advance and stored in the pantry or the refrigerator for use later in the week. Think about the things that you use every week that you prepare regularly. I bet you "go through the motions" several times a week to make cheese slices, veggie dippers, or baked goods.
I know I do. In fact, for months I've been whispering to myself, "You really should just set aside time every week to do all this stuff, so you have it."
Last Sunday I finally put feet to my good intentions. I made a list of things that needed to be prepped for the week, and then I set aside tim during my toddler's nap to knock out some of those meal items.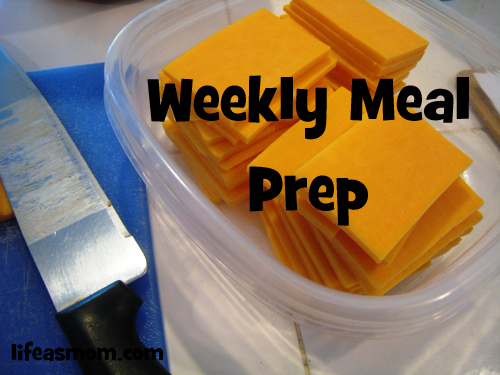 Holy cow! What a blessing it was all week to have on hand all sorts of healthy snacks to hand the kids or to use to pull together a quick lunch.
Some of the things that I made included:
grated cheese – went into quesadillas, salads, and tostadas
cheese slices – for sandwiches and snacky lunches
vegetable dippers – for snacks, side dishes, and to chop for dinner recipes
Chocolate Zucchini Cake – for desserts and snacks
Oatmeal Cookies – for desserts and snacks
Maple Granola – for breakfasts and snacks
It was like a dream come true. I had convenience, but without the high price or questionable ingredients list. I'm sold. So much so that I put together a checklist for myself — and for you.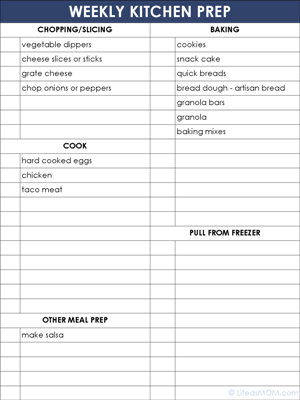 This Weekly Kitchen Prep List starts with some of the basic food items that are nice to have on hand. I left plenty of blank spaces to fill in with items that might change on a weekly basis. This would be the ideal sheet to laminate and keep on the fridge.  Here's a completely blank sheet if your action items look nothing like mine.
I plan a repeat performance for this week — and the weeks to come. This was, by far, a major sanity saver in my week. Grocery shopping and meal planning are essential. Putting together a meal prep list and following it is the next natural step.
As for the meal plan, here's what we got cooking:
Breakfasts
served with fruit
Smoothies and Muffins
Scrambled Eggs and Toast
Yogurt and Toppings (like honey, maple syrup, granola, nuts, or fruit)
Rice or Oatmeal with Toppings
Cinnamon Zucchini Waffles
Maple Granola
Pancakes

Lunches
served with fruit and veggies
Sunbutter or Turkey Sandwiches
Cheese and Crackers
DIY Pasta Salad
Beans and Rice
Leftovers
Salads for me

Dinners
served with green salad and seasonal vegetables from our new produce co-op 
Poblano Enchiladas – didn't happen last week
White Chili
Hamburgers and Brats on homemade buns, Sweet Corn
Pasta with Red Sauce
Roast Chicken and Potatoes
Birthday Dinner – FishBaby's FishChick3's choice
take-out (let's be real)

Snacks
White Chocolate Cookies (no nuts)
Veggies and Trader Joe's Hummus (yes, I know I could make homemade)
Crackers and Cheese
Sunbutter and Celery
Zuccchini Bread
whatever else comes in our produce box this week
How do you prep for your week?