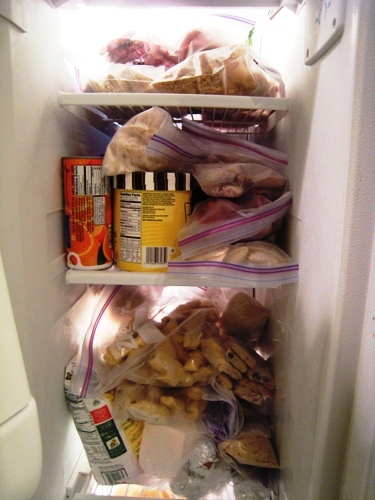 Well, did you hear the news? She's back! My good Freezer Cooking buddy is back in the saddle and ready to ride this weekend as we cook up a veritable storm. So fun! Are you ready to join us?
I have been terrible about keeping an inventory of what's in our freezer. At one point it got so full that it was really hard to see to the bottom of it. But, now I see it somewhere down there. And I'm amazed at all the uncooked meat, chicken, and fish I've got. I stockpiled quite well awhile ago, so aside from ground beef and some boneless, skinless chicken, I don't have to buy anything more for this freezer cooking round.
Eat It Up Week
So, this week is eat up what's in the freezer week at the Fisher Homestead in order to make room for some new stock.
Breakfasts:
Oatmeal with Cranberries and Nuts
Egg Sandwiches
Pancakes
Chocolate Butterhorns
Mix and Match Muffins
Scones
Petit Dejeuner
Lunches: Lots of picnics! We have all kinds of outings this week.
Sandwiches
Snacky Lunches
Pasta Salad
Hamburgers
Dinners:
Sandwich Night
Meatloaf – this meal keeps getting bumped. Time to eat it up!
Chicken Chile Tortilla Casserole
Grilled Fish Tacos
Tacos
Pizza Night
Planned Takeout
What are you having?