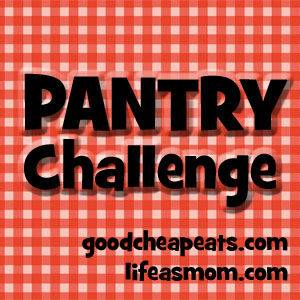 As you know, I decided to tackle a Pantry Challenge. My goals included to spend the first four weeks of this month, using up what we had in the cupboards, refrigerator, and freezer, as well as reducing my grocery spending. There were some good things about this challenge and some not so good things. But, all in all, I think it was a success.
Here are some of the things that I learned or was reminded of over the last month.
To be thankful
My original goal had been to reduce our grocery spending by $50 a week, from $150 to $100. I had a lot of meat already stockpiled in my freezer, so it wasn't a huge sacrifice, but at the same time, that extra $50 a week gives me a lot of freedom.
Three years ago I spent $100 a week to feed a family of seven, with some very small children amongst them. This month I attempted that with eight hearty eaters, including one teenager. Need I say more?
While we certainly ate fine, it was a little more challenging and I missed that margin that the extra $50 gives me. Three years ago we were grossly in debt and I didn't have a choice. Today I am very thankful that God has allowed us to pay off those debts and allow us some margin.
To manage my freezer better
I found some pretty strange things in the depth of my freezer, including three bags of chicken bones, meat dated last July, several unmarked sauces, and a handful of stray blueberries. How the berries escaped the bag, I'll never know.
I am reminded to keep better inventory, to label, to make chicken stock right away instead of freezing the bones, and to rotate the stock more often.
I also have a renewed appreciation for my freezer alarm. It went off a few times in the transition of emptying and refilling. The idea of a full freezer melting strikes fear in my heart. And while it is certainly not foolproof, a freezer alarm is a nice back up to have.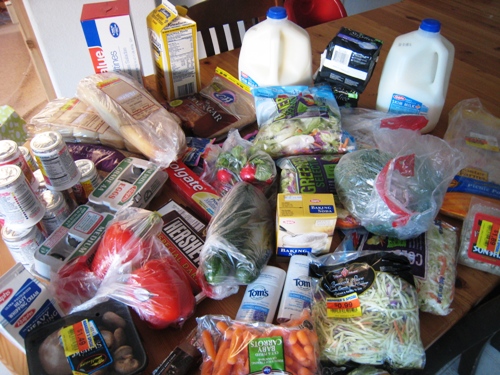 To not obsess when it's not necessary
Near the end of the challenge I found myself getting really frustrated about not having the fixings for easier meals. And whether it was "internet accountability" or my own sense of determination, it was humbling to just "give in" on Day 27 and go shopping early.
I realized that it wasn't necessary to obsess over this fact. As Cheryl pointed out after last year's challenge:
… the challenge offered a fun and creative way to take my menu-planning skills up a notch. But when it started feeling like we were in survival mode, and there was no natural disaster or financial emergency to force us into this mode, my husband asked me to stop the self-imposed challenge and return to the nearest grocery store.
I get this. And this post kept coming to my mind to relieve any qualms I might have had in shopping early. I did a happy dance all through the store, let me tell you.
Will I do a Pantry Challenge again?
Absolutely. In fact, I'm already thinking that July will be good since my freezer will most likely be full of cookbook creations by then. But, I'm going to leave some of me for later, and make it a two week challenge this summer.
How did you do?
I've heard some wonderful stories via facebook and my daily posts on Good Cheap Eats. So many of you have jumped in, given your pantries makeovers, and otherwise made the most of what you had.
This is so exciting — and encouraging to this mama who was feeling like I wimped out.
So, share how the pantry challenge went for you. Link up your post below or tell us in the comments.