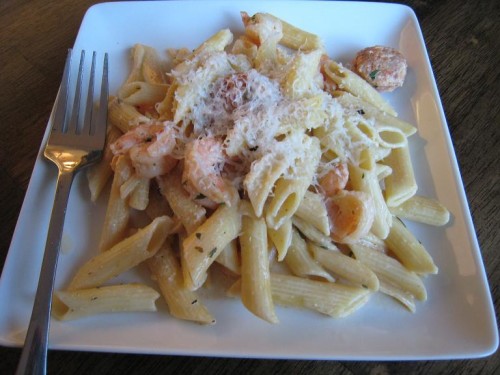 This past week, I saw some great successes with my meal planning and some …. un-successes. FishBaby had been battling some kind of mystery illness that had me on the phone and in doctor waiting rooms quite a bit. After three doctors and two medications, I think we're on the mend. But, in the midst of it, I was way too distracted to do a whole lot of exciting things in the kitchen, even if it was just take something out of the freezer. Thankfully, my mom was here and was happy to treat us to a few meals of take-out. Thanks, Mom!
There is a time and a place for everything. Amen and amen.
I did get to make the Jambalaya Pasta, and it was yummy. Nothing fancy. But, delicious, nonetheless.
Jambalaya Pasta
2 chicken Italian sausages
2 cloves garlic, thinly sliced
1 pound shrimp, peeled and deveined
1 cup half and half or cream
1-2 Tablespoons cajun seasoning
1 pound penne, cooked according to package directions and drained
grated Parmesan cheese, to taste
In large skillet cook sausages in simmering water until cooked through. Slice sausages. Drain water. Put sausages, garlic, and shrimp in pan and stir-fry until shrimp are pink. Pour in half and half and Baby Bam seasoning. Simmer for a few minutes, but do not boil. Toss with cooked and drained noodles. Sprinkle with Parmesan cheese.
This week should be an easy week. Famous last words, I'm sure. 😉
11. Greek Steak, Pita Bread, and Couscous Salad – The steak is already marinated. I'll just let it thaw before FishPapa cooks it up. The pita bread and couscous salad are items I'll mix up fresh. And if I get a good photo, I'll share the recipes.
12. Rice and Beans – The cooked beans and grated cheese are ready in the freezer. I can thaw them the morning of and cook up a pot of Mexican Rice that night.
13. Taco Night – I precooked the taco meat and stored it in the freezer along with a bag of grated cheese. At dinnertime, I just warm the meat and the taco shells from the pantry and add shredded lettuce and the thawed cheese.
14. Pancake Night
15. Lasagna, Green Salad, and Foccacia Bread – The lasagna and foccacia are from freezer cooking. I prefer not to bake the lasagna until the day I serve it. The foccacia is already baked, just need to thaw and warm.
16. Pizza Night – Homemade Pizza, Veggies, and Ranch Dip – The cheese is already grated and some of the pizza toppings are already prepped.
17. Chimichangas – I store cooked pinto beans, grated cheese and tortillas in the freezer. I thaw them during te day and then assemble burritos at dinnertime and crisp them on the griddle for "mock chimichangas."
What are YOU cooking up this week?
For more meal planning inspiration, visit I'm an Organizing Junkie each Monday.