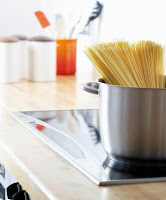 As a self-proclaimed food snob, I love food! And, I really do love to cook. It's something that helps me relax (the cooking, but especially the eating.)
Unfortunately, I don't have two hours to make dinner every night like I did six children ago. While cooking has been a very welcome activity for me this past week, I know that I have to keep shortcuts in mind. This will help me be a little more cheerful come dinnertime. 'Cause nobody wants a crabby mom.
I don't buy a lot of prepackaged items, but I know that convenience items can be a real life-saver. Products like grated cheese, refrigerated pie crusts, and bagged salad are very helpful. And manufacturers are producing more and more of these types of quick items. But, you may have "convenience" items in your stash already, products that serve more than one purpose. For instance:
** Frozen Potatoes O'Brian (potatoes with peppers and onions) can easily be added to casseroles, or in my case, Minestrone! What a time saver to realize I didn't need to peel and chop all those veggies yesterday when I made soup. I had a bag of these hashbrowns to saute briefly and then add to the crockpot.
** Salsa is a staple around here. Chances are you have a jar stashed in the cupboard. But, did you know it's great to mix into chili or soup to add some zip? You can also mix it with mashed avocados for a great tasting guacamole.
One of the tricks to Once-a-Month cooking is to maximize your time and money by making several dishes with like ingredients. The same holds true for cooking each night. Brown twice as much ground beef for two different recipes. Grate enough cheese for tacos one night and enchiladas a few nights later. Consider this idea when meal-planning and make sure to include a few dinners that can build off one another.
** Last night we had Brie-Tomato Pasta. I made twice as much pasta to make into a pasta salad.
** Tonight I'm making baked chicken, potatoes, and veggies. But, I plan to take the leftovers and immediately put them into a chicken pot pie. You can do this with any leftover meat and veggies that you might have. I purposely make extra to save myself some time. If you're making mashed potatoes to go with your meal, make yours a shepherd's pie.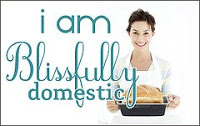 By thinking through your meals, you can find ways to save yourself a few steps and a few dishes. That always makes for a happier mom, doesn't it? And don't forget to whistle while you work.
What do you do to make dinner prep go more quickly and easily? Tell us about it in the comments.