A Means to An End
As an Amazon Associate I earn from qualifying purchases. For more details, please see our disclosure policy.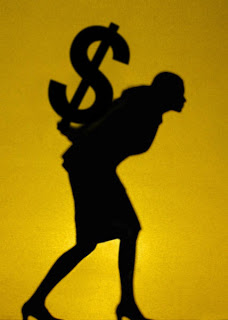 You've heard me wax eloquent about coupons and Dave Ramsey and all my great grocery bargains. I am not a frugal expert, though I've been trying for a long time. It's taken awhile to establish frugal habits and not feel "deprived.
We like nice things: Vacations in France. Good, no, great coffee. Sundried tomatoes and Brie tossed with pasta. Whole grain breads. Fresh, organic produce. Dinners out. Whole foods made from scratch.
FishPapa and I both came of age in Santa Barbara. It's a fairly wealthy community full of celebrities and millionaires. Although we were neither celebrities nor millionaires, we witnessed first hand the lifestyles of the rich and famous.
I would say that by international standards, we make a good income and own a large, comfortable home. We are very blessed. But, we haven't always made the best financial decisions. And it was always perplexing to me how to make a budget when you were self-employed and your income fluctuated from month to month. Since we started Dave Ramsey's Baby Steps, we've understood that a lot better and as a result, we are in charge of our money instead of the other way around.
Now to the health-conscious, pictures of my groceries, namely frozen chicken nuggets, Chex Mix, and prepared convenience foods, would certainly raise an eyebrow. Partially-hydrogenated whatevers, high fructose corn syrup, msg, and you-name-whatever-you-can't-pronounce are not good for us.
I don't think I buy a ton of these things, but they are there nonetheless. I do try to avoid "junk." But, as we've taken a step down from all-natural peanut butter and whole grain breads, we've also been able to save a substantial amount of money.
I look at purchasing the less expensive, yet not as healthy, option as a means to an end. I don't plan on eating Chex Mix and chicken nuggets for the rest of my life. We don't make any of it a steady part of our diet. But, it is a means to get us out of debt. A means to establish a larger emergency fund.
Some day I trust that, Lord willing, we will be living debt-free with six months' budget in the bank. Once those goals are established, we will have a lot more wiggle room in how we spend our money. I hope that we will have more to give away. I hope that we'll be enjoying more of those healthier "luxuries."
In the meantime, I'm going to do the best I can with what I have. I buy whole grains and organic often as many "healthy" manufacturers offer great coupons. We are growing what we can. I am baking more bread myself. But, I'm not going to go over budget in the name of healthy food.
No pain, no gain.
However, I realize that my thoughts on this aren't the only ones or "the right ones." We're each looking to find our own groove. And maybe there's something I'm missing.
What do you think? What do you do? How do you look at it? Let's chat in the comments.