There's all sorts of exciting things happening over here in terms of group participation these days. Not only have I got one fun meme, but now thanks to Crystal, I have two fun memes. How lucky could a girl be?
And their subjects?
Food and Money – probably the two most talked about topics in my entire life. Just ask my mom. Or my husband. If I haven't been gabbing about one, I've been yakking about the other.
I'm excited to see what you all have to share in the coming weeks and months. But first the run-down, in case you missed it.

Thursday is the day for URS, or Ultimate Recipe Swap. It's an opportunity for all of us here in the blogosphere and beyond to share our favorite recipes. Each week is based on a certain theme. You can check the archives for past swaps about holiday dishes, breakfast, chocolate, and much more.
The schedule for the next few weeks is as follows:
March 12 – Saint Patrick's Day menus or recipes
March 19 – Hot and Spicy dishes
March 26 – Freezer-Friendly recipes
April 2 – Easter Main Dishes
April 9 – Easter Desserts
So, if you'd like to participate (and I hope you will), just post your recipe and any story that might go along with it, link to LifeasMOM in your post, and bring the link to your post back here on Thursdays to add to Mr. Linky. The links will be up indefinitely, so if you're a day or two late, that's okay.
It's that easy. Then, you can check out what other people make and add to your collection.
(Just don't read when you're hungry – it's torture.)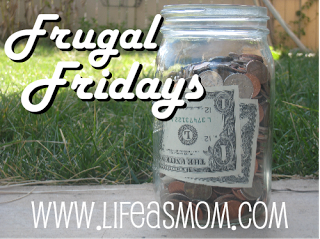 Frugal Fridays is another great "meeting of the minds," this time to share frugal tips and tricks. As you know, we can all benefit from great ideas that have helped others save money. So, please share the wealth! Write about your favorite ways to save money each week, link to LifeasMOM and then bring your link back here.
Crystal established a wonderful forum for sharing great money saving ideas and I am blessed to be able to carry on that tradition. But, I can't do it without you! So, I look forward to all the ideas and inspiration you have to share.
As with all good things, the more the merrier. Anyone is welcome to participate in either or both memes provided that both the blog and the post are family-friendly.
Please remember
1. to add a link to LifeasMOM, so that your readers know where to find all the other good stuff that people are sharing. (It's always good to share, isn't it?)*
2. to make sure that the link you share here directs us to your post, not the main page of your blog. You can find directions to do that here.*
Feel free to grab the buttons for each one to add to your post if you like. Any questions? Write me: lifeasmom at sbcglobal dot net
Mark your calendars and get ready for a great exchange of food and frugality!
* Disregarding these guidelines may result in your link being deleted from the group. So don't do that, K?