Memorial Day is More Than Just a Picnic
We are a participant in the Amazon Services LLC Associates Program, an affiliate advertising program designed to provide a means for us to earn fees by linking to Amazon.com and affiliated sites. We participate in other affiliate programs as well. For more details, please see our disclosure policy.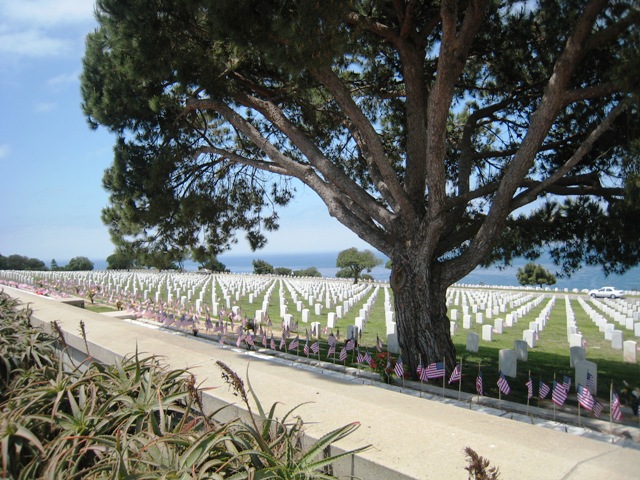 When I was a child I considered Memorial Day simply a holiday which interfered with my birthday plans. Inevitably, most of my friends would go out of town for the long weekend, and birthday party attendance was sparse. In later years I thought of it as an odd tradition that older friends had of decorating gravesites with plastic flowers. That it was a holiday with meaningful significance didn't cross my mind. Though I had uncles who had served in the US military, none had died in service; Memorial Day didn't hit that close to home.
It wasn't until last year that I really felt the magnitude of the occasion.
On a sunny, Monday morning, we loaded up our kids and took them to the Memorial Day Services at Fort Rosecrans at Point Loma. We'd never done this kind of thing before, but for some reason, FishPapa and I were both motivated. The line for parking was amazingly long. I'm surprised that we didn't turn around.
The kids were squirrelly during the service. Instead of sitting in chairs with the rest of the audience, we hung (as respectfully as a family of 6 children can) near the outer edges, close enough to hear, but hopefully, out of range enough so that others would not be disturbed by our kid chatter and parental shushes.
Amidst the other participants in the service were men and women of all ages, veterans of United States military service. But, there were also survivors — widowers, widows, children, parents, siblings —  of men and women who gave their lives for the pursuit and preservation of freedom — my family's freedom.
As stories were told that morning about the sacrifices these strangers had made for our country, I couldn't help but cry. As I watched my children walk along the road that meandered through the cemetery, I was sobered. As a mother whose son had perished in the line of duty was handed a folded, commemorative flag, I wept.
While my kids, particularly the younger ones, might not have "got" much of what was going on, it did give us opportunity to talk about the brave who've gone before us. And while tradition is often mocked in our "modern" culture, I'm holding on to this one.
Let's not forget those who've sacrificed so much to preserve peace, to protect the defenseless, and to defend liberty.