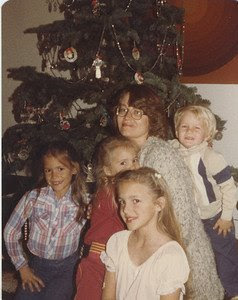 I have such great childhood memories of the Christmas season. My mom loves the holiday, and her enthusiasm was infectious to me as a child.
She had wonderful collections of ornaments that she carefully stored wrapped in their original packaging. She would take each one out and tell us the story of where it came from and who gave it to her. She purposed to create similar collections for each of us kids.
Mom made delicious recipes that she prepared only at holiday time, like her fantastic dessert called Toffee Dream Pie. It's definitely worth arm wrestling over the last piece.
We decorated cookies together. We consulted over how best to adorn the tree. We brought out the best dishes and polished the silver together. Overall, mom really included us kids in the festivities.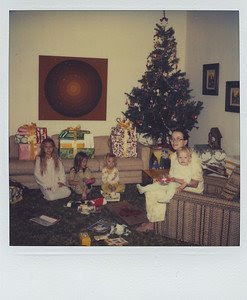 Our life was pretty full back then. My dad worked several jobs; my mom taught college classes at night and cared for us children by day, and for several years my parents also ran their own business in addition to all their other responsibilities.
But come Christmas time, Mom always made an effort to bring beauty and excitement to our home. She taught all of us, even her very hyperactive boys, to enjoy a quiet evening in the dark, listening to carols and watching the fire flicker and the tree lights blink. She was quick to extend hospitality to anyone without a place to go, and set a great example to us of feeding a crowd. As a result, all five of us children love to feed people and enjoy welcoming others to our homes.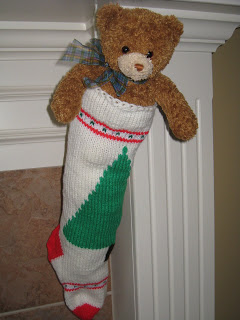 Today, she handknits gorgeous stockings for our kids, following her own mother's traditions. (I keep telling my sisters that one of them needs to learn how to knit for the next generation. Maybe now that knitting is hip for men, we can convince one of our hyperactive brothers to take up the mantle….)
My ever-creative and industrious mom recently designed a beautiful, customizable, handknit stocking. It features a simple and elegant Christmas tree that you can embellish with suitable button and charm "ornaments" as your child grows. Perhaps a little duck button for Baby's first year and later a baseball button when he hits Little League. The options are endless as you create a miniature Christmas tree ornament "collection" on a stocking. And if you're a minimalist, you can just leave it as is.
True to her trademark generosity, my mom is sharing the wealth with you all! Today's giveaway features two of these beautiful stockings (teddy bear not included). TWO winners will be randomly selected. Each will win ONE stocking. This contest will stay open for 48 hours, until Wednesday at 9 AM CST.
Simply share your favorite Christmas memory (from then or now) in the comments section. How can we make beautiful memories with our families?