Memories on the Tree
We are a participant in the Amazon Services LLC Associates Program, an affiliate advertising program designed to provide a means for us to earn fees by linking to Amazon.com and affiliated sites. We participate in other affiliate programs as well. For more details, please see our disclosure policy.
The following content is sponsored by Hallmark: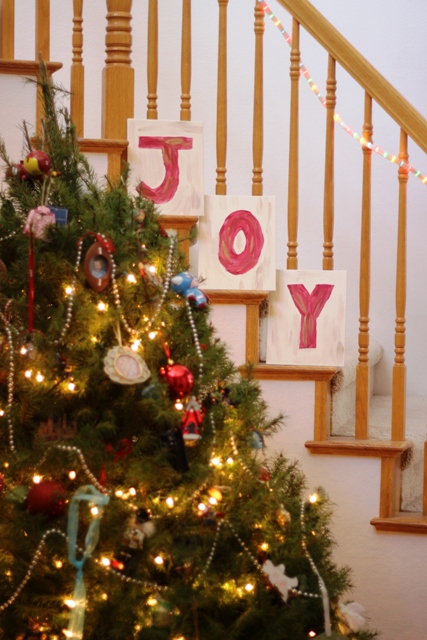 Last week I confessed that I consider decorating the tree a chore. Please know that doesn't mean I don't absolutely LOVE having a decorated tree. I love watching the lights glow in the darkness. I love watching my kids' eyes light up when they look at their favorite ornaments.
I'm sure there is an art and science to tree decorating. We knew a man who ordered a tree already decorated each year! Yikes! And then he chucked it lights and all afterward. Sad! While some folks probably plan out a color scheme and buy new ornaments each year, we take a more laid-back approach. Our tree is a kid tree through and through.
No pinterest-perfect trees here, and I'm totally okay with that.
You see, I remember how much I loved decorating the tree as a child and using the personal ornament collection that my mom had built for me. I'm in the process of building each of my kids an ornament collection. Each year they receive one or more new ornaments that reflects their interests that year. One can look over their collections and see how they've grown and developed over the years.
While this year's Charlie Brown tree wasn't big enough for all mine and FishPapa's ornaments, a few did make the cut. There are a number of ornaments that are really important to me that I treasure.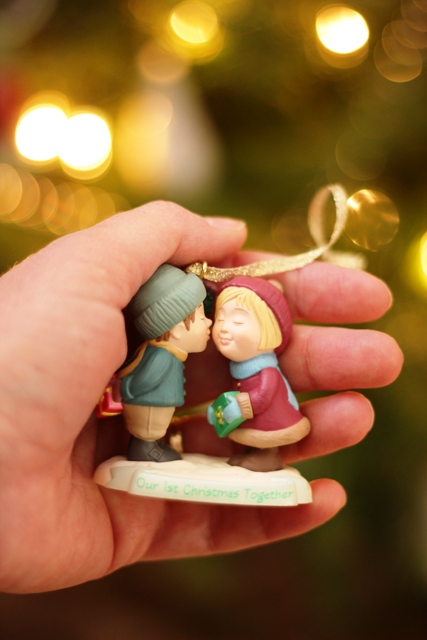 My mom and sisters bought me and Fish this Hallmark ornament for our first Christmas as a married couple. We got engaged in January and married in May, so we were almost a full year into marriage, but it was still fun.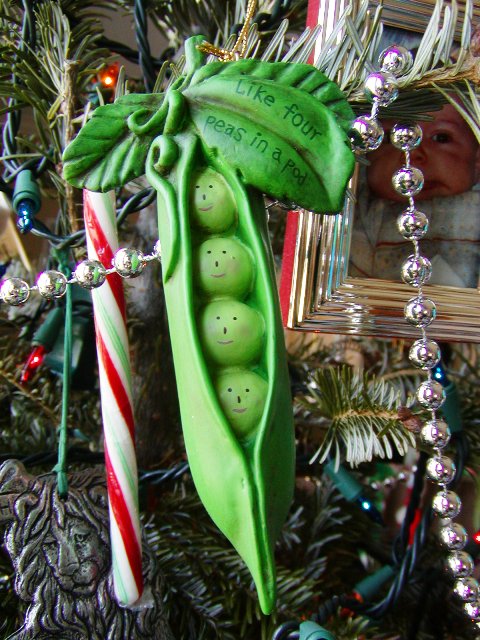 Gramma Marilyn gave us this one the year our fourth FishBoy was born. I was the only female in a sea of testosterone. And honestly? I miss those days when the boys were so loud and rowdy. I wish I hadn't been so overwhelmed. I might have enjoyed that season more. As it is, I know it was blessed, despite the chaos.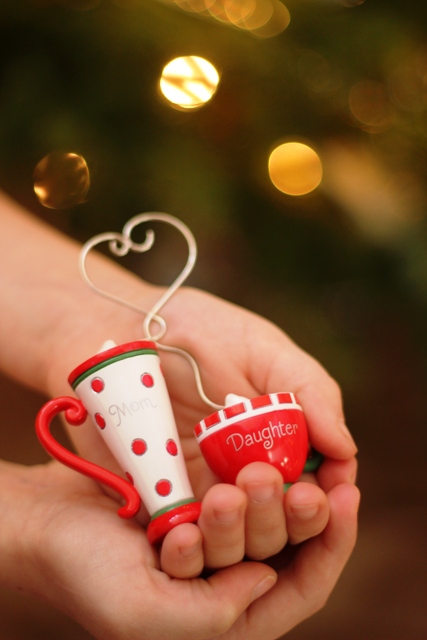 I bought FishChick7 and I each a Mom/Daughter ornament when she was born. I didn't know at the time that we'd have a second daughter. Finally having a girl was an especially poignant event. I told her the story of our matching ornaments this year. It was good to reassure her of her unique role as my first girl.
This year I had a chance to pick out a couple Hallmark Keepsake Ornaments to add to our collection.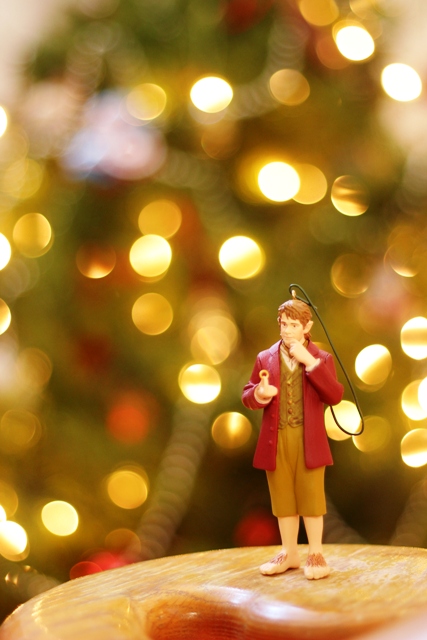 Since we're such a family of bookworms, I chose two literary ornaments. I have such wonderful memories of reading books aloud to kids. In fact, as I type they are getting ready for us to finish our current book.
The Hobbit and The Lord of the Rings, both by JRR Tolkein are some of our favorite stories. We've read them aloud together; we've listened to the books on tape; we've watched the films, so this Bilbo ornament is a great addition to our collection.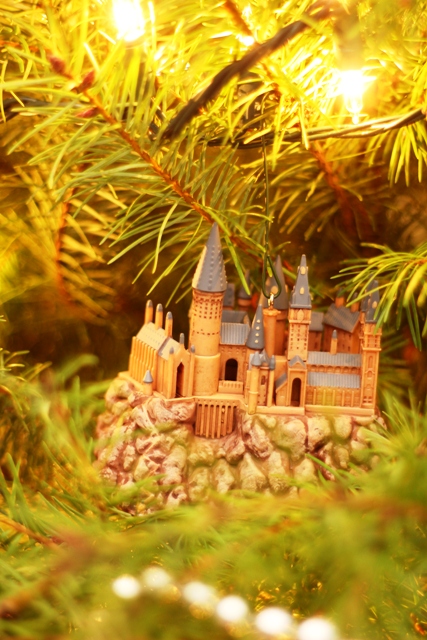 Another especially meaningful ornament for us is the Hogwarts Castle from the Harry Potter series. It plays music!
For years I was adamant that we not have anything to do with Harry Potter. Finally in 2010 I had a showdown with my eldest son which was good for both of us. I think we both "won". What resulted was a wonderful year-long experience of reading the books together and engaging with the characters as a family. We finished the series up in time to see the final film in the theater. It's a great memory for me of working with my kids, relinquishing my stubbornness, and learning together.
(If you're on the fence about the series, or are curious why I changed my mind, this post does a great job explaining it all.)
I'm proud to hang Hogwarts on our tree.
I love looking at our Christmas tree; it's filled with so many memories. Maybe decorating isn't such a chore after all!
Do YOU have special ornaments or traditions for decorating YOUR tree?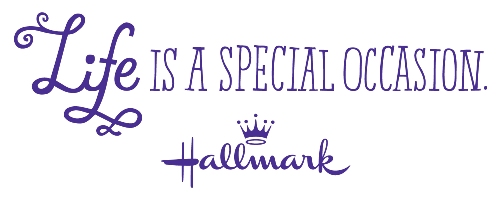 Disclosure: I have been compensated by Hallmark for my time spent writing. All opinions are my own.