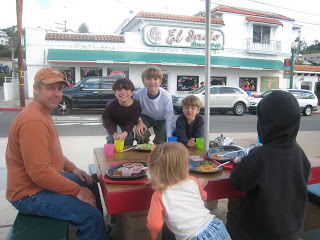 Since we're such food freaks over here, many of our memories are linked to eating. When FishPapa and I were dating, we often went out to eat or cooked meals together. When we honeymooned in France, some of our most fun experiences took place in restaurants. In our newlywed years we made it a habit to bring folks home from church with us for minestrone soup or enchiladas.
I guess you could say that food is a family-wide hobby. Our kids love good eats just as much if not more than we do. They have favorite meals and restaurants for birthdays and special occasions. Special requests pop up from time to time. When can we make donuts again? When do you think we could go to CPK again?
Exploring and experiencing foods together is something we enjoy as a whole family. Two weeks ago we went to El Indio, a popular Mexican food restaurant in San Diego. The FishBoys were very excited to see that the restaurant had been featured on one of their favorite Food Network shows! It was so fun to sit outside – the temps were in the low 60s – and enjoy a nice meal. And we made a memory.
Last week we tried sushi, something they'd been wanting to taste. I don't think we have any fans, myself included, but we explored and experienced together.
Yesterday after church we found a little French bakery where we bought several baguettes. The crust shattered just as it should, and we gave a lesson on good French bread on the way home, munching hand-torn pieces along the way.
While we're filling our bellies, we're also making memories with our kids. Memory is linked to the senses. You know how a certain song takes you back to a specific moment in time? The same is true with food. We're linking memories to our children's dining experiences. And that is why we like to make meal time fun.
This week, our meals are going to range from mundane to momentous. We've got a few nights of beans and rice, but also a special Valentine's Dinner. A few years ago I heard about a family who had a romantic meal every year — as a family. Mom recreated the dishes that Mom and Dad ate on their first date and modeled to their kids an elegant, romantic dinner. So this week, Chicken Parmesan will be on the menu.
We started this tradition two years ago. Though some of the boys may roll their eyes at the sappiness of it all, if they don't know how to set the scene for a nice meal, it won't be for lack of trying on my part. We bring out the good dishes, cloth napkins and sparkling apple cider. FishPapa and I talk about when we met and our first date. We make sharing our love — of each other and yummy food — a priority at Valentine's.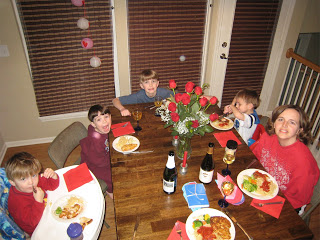 Our meals this week:
hamburgers, rice and bean salad
bean tostadas
PB chicken
carnitas soft tacos, beans and rice
homemade pizza
chicken parmesan (going to try this recipe this year)
What memory-making meals do you have in your recipe box?
Related:
** For more meal planning inspiration, visit I'm an Organizing Junkie every Monday.
** See Kate's great Valentine meal ideas at A Simple Walk.