Mrs. Marcy, Ms. Berge, Madame Stephenson, Michelle, Kathy, and Karen — these women don't really know each other, but they all have something in common. Each was a mentor to me over the years. They helped me along this road, called life.
Each played a significant role:
my second grade teacher who loved on me and shared a passion for books
my junior high art and journalism teacher who taught me to write
my high school French instructor who encouraged me and pointed me in the right direction
a older, college girl who taught me about God
a young wife and mother who rented me a room when I was in college
my landlady during my newlywed and new mom years.
I count all these women as my friends. And yet, I'm not sure they all know what a mark they left on my life. But, I so thankful for these women who invested in me when I was a child and a young(er) woman.
They were mentors to me at significant points in my life and helped shape who I am. Finding people like this is not as easy as it seems and yet a good mentor can add so much to one's life.
Sometimes we don't know know when we've had an impact on another's life. In fact, if you're a Hershey's chocolate fan, you've been a behind the scenes support to mentors at the Milton Hershey School, a
cost-free, private, coeducational home and school is the largest of its kind in the nation. Today, MHS is a safe-haven for more than 1,800 girls and boys from pre-kindergarten through 12th grade who come from states throughout the country. Children from families of low-income, limited resources and social need are given the opportunity to work hard, realize their potential and build towards a brighter future.
This year the Milton Hershey School celebrates its 100th year. While you've been gobbling kisses and S'mores fueled by Hershey's bars, you've also been helping to support this unique school. Their alumni have gone on to impact their communities as well.
Hershey would like to say thanks!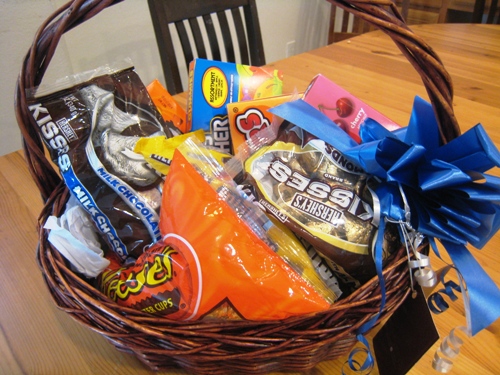 This week three LifeasMOM readers will each receive a basket filled with Hershey candies.
To Enter
Leave a comment on this post, telling us about a special mentor in your life.
Giveaway will be open until Sunday, October 25th at 8 pm, PST. Winners will be chosen randomly and notified via email and have 48 hours from time of email sent in order to claim their prize.
Congrats to winners: melissakeune@ alilbitoirish@ gracedeb1@
Disclosure: Hershey's has provided me and three winners with a gift basket full of chocolate. I was not paid to publish positive comments. My opinions are my own. For more information, see my disclosure policy.