Mere Christianity, The Story of the World & Booking It
As an Amazon Associate I earn from qualifying purchases. For more details, please see our disclosure policy.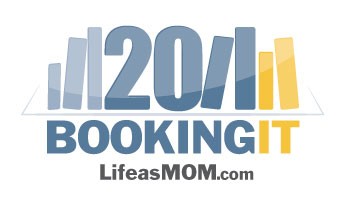 We're Booking It around here. Yesterday we talked about the month's reading assignment, Mansfield Park. Today is a veritable free-for-all as we share what we've read on our own.
For the kids
With six children home all day, we read a lot together. So much so that I go hoarse reading.
Certainly, my oldest three (13, 10, 8 ) can read to themselves. But, sometimes they enjoy hearing a chapter book together, though my teenager is loathe to admit it. Sometimes it's more efficient for us to go over a history reading at one time rather than have the book passed around amongst the three of them.
We're currently working out way through The Story of the World, Volume 4, and learning about the world after The Great War. It's amazing to me how much I've forgotten — or never learned — about the things that have gone on before us. And startling to see that past conflicts are still not resolved. History is repeating itself in many ways.
We're also reading through the Bible using this schedule. I confess to have skipped over some of the R-rated parts in my reading aloud. (Yes, the Bible has an R-rating at times.) But, I'm okay with that. The skipping parts are few and far between. What I'm hoping for is a global understanding of God's provisions for his people and an appreciation for how much we need Him.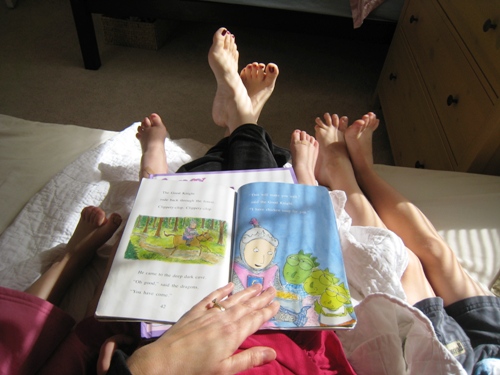 My three younger kiddos (6, 4, 2) love to read stories. I try for 3-5 in a day, though it can be more or less, depending on what's going on. Some recent favorites (read: the ones that I read over and over and over again) include Fancy Nancy and the Posh Puppy, Be Nice to Spiders, Mashed Potatoes, and Hats for Sale. My son, aged 6, whose library choices lend themselves to anything Star Wars or Lego, would never say that he likes Fancy Nancy, but he also never walks away.
For me
I'll admit this month has been hard for me to work in a lot of reading time. I've been spending a lot of time in the kitchen for this book, and that means a lot of time cleaning the kitchen when I'm done. So, my reading really has been limited to thirty minutes a day, and often that is spent on homeschool reading.
That said, I thoroughly enjoyed Mansfield Park. I even had a bubble bath and soaked and read. How's that for pampering myself? Jane Austen really does take me away.
I also started Mere Christianity by CS Lewis and I got much farther than I did the other dozen times I tried reading it. But, truth be told, I keep forgetting where I'm at. Absolute bookmark fail here. And since it's so meaty, I can't easily remember what I've last read. I really am enjoying it, though. It seems to have filled a lot of holes in my theology, too. More on that next month!
So, read any good books lately?
Tell us about your latest reads or link up your booking it post.