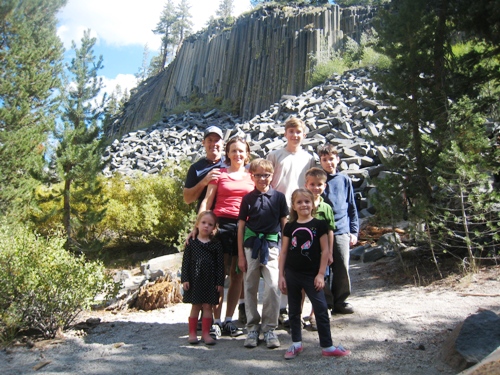 I don't send Christmas cards any more. I'm one of those people. I know. I used to dislike them also.
But, I realized that something had to give. And Christmas cards was it.
That doesn't mean, however, that I don't send you wishes for a very Merry Christmas and a Happy New Year. I do. I just figure it will be happier and merrier if I don't pull my hair out trying to get those cards addressed and stamped.
Disclaimers aside, here's my virtual holiday greeting from our house to yours. This is all of us back in September at Devil's Postpile. It's an amazing natural wonder. If you ever get a chance to go to the Eastern Sierras, please check it out. It's beautiful.
Please also accept heartiest Christmas Wishes from the Fishes.
We wish you all the best in 2013 and always.