Mini Smores Cones (URS: Dessert)
We are a participant in the Amazon Services LLC Associates Program, an affiliate advertising program designed to provide a means for us to earn fees by linking to Amazon.com and affiliated sites. We participate in other affiliate programs as well. For more details, please see our disclosure policy.

After a family dinner out on Saturday I ran into Walmart for a few things: malt powder and whipping cream so that I could whip up some awesome dessert that would knock your socks off. Hubs and the kids were circling in the parking lot while I grabbed those items, so I was trying to be quick. As I headed to the front I decided to detour by the ice cream aisle. I knew we had ten quarts of ice cream if we had one, but I wasn't sure that we had cones. So, I grabbed the first box I saw.
At home, I went to dish up the kids' desserts and imagine my surprise when I saw these: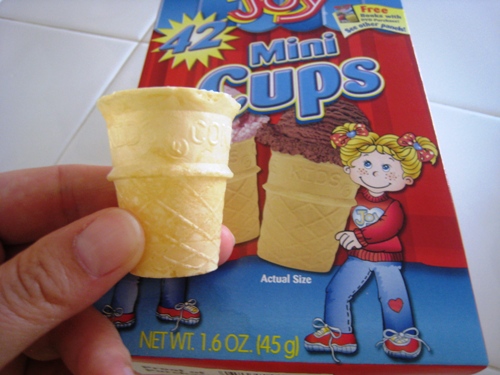 When they say "actual size" they aren't joking. Mini cups really are, well, mini. We got a good laugh out of them. And thankfully found full size cones, 6 to be exact, in the pantry. But, I went to bed that night, wondering what awesome dessert I could create with mini cones that would knock your socks off.
Thanks to my friend Mandi and her weird infatuation with interest in smores, I came up with these babies: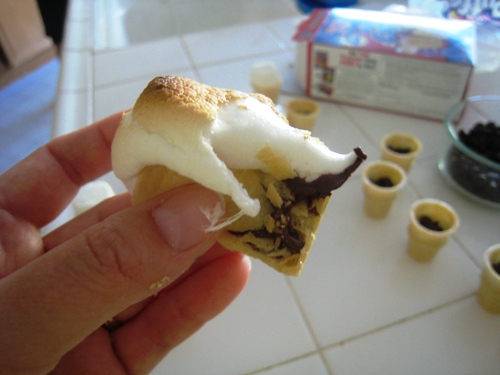 Mini Smore Cones!
They are just the right size, easy to make en masse, and just as gooey, chocolatey and crunchy as the real deal. Hubs even got interested in the testing and design of this recipe as we attempted to make it work for everyone. As always though, your mileage may vary.
You only need three ingredients: mini cones, chocolate chips, and either marshmallows or marshmallow creme.
Please note that marshmallow creme contains egg whites, so if your family is dealing with an egg allergy, go for the real deal. I only had four or five marshmallows left so we saved those for FishChick2 and made the rest with marshmallow creme. They have some fine differences, but both are delicious.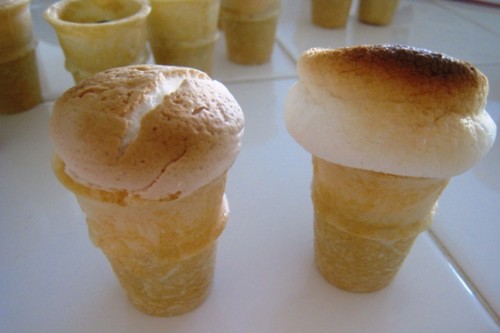 I tested these in the toaster oven's broil setting (400 °F) as well as in my oven's broiler and the oven's 400°F setting. I prefer the toaster oven. I could see how brown they were getting without opening the door. Use what you got and make it work for you.
Recipe: Mini Smores Cones
Ingredients
1 box mini ice cream cones, about 1 to 2 inches in height
1 cup chocolate chips
1 package marshmallows or 1 jar marshmallow creme
Instructions
Preheat the toaster oven to its broiler setting (about 400°F) or the regular oven to 400°F.
Lay out the cones on a broiler safe baking dish.
Fill the cones halfway with chocolate chips.
Insert a marshmallow into each cone or fill the cone with marshmallow creme. If using creme, allow a small amount to mound over the top of the cone.
Bake the cones in the oven for 5 to 10 minutes depending on how toasty you like them. Bake the cones in the toaster oven for 2 to 3 minutes or until toasty.
Remove the cones from the oven carefully and serve.
Preparation time: 10 minute(s)
Cooking time: 10 minute(s)
Number of servings (yield): 12
If you're worried about the cones tumbling on the tray, you can try this Alton-Brownesque suggestion from my husband: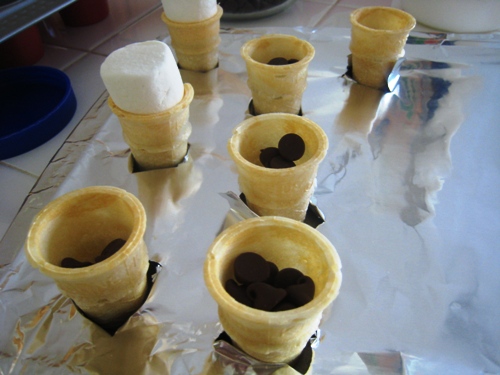 Cover a rimmed cookie sheet with heavy duty aluminum foil. The higher the sides of the tray, the better. Cut holes in the foil so that you can poke the cones through the foil and the foil will keep them from toppling.
If you con't like your marshmallows toasted — apparently some people don't — you can tuck the marshmallow into the cone, dip it in melted chocolate, and roll it in sprinkles or chopped nuts. How cute is this?!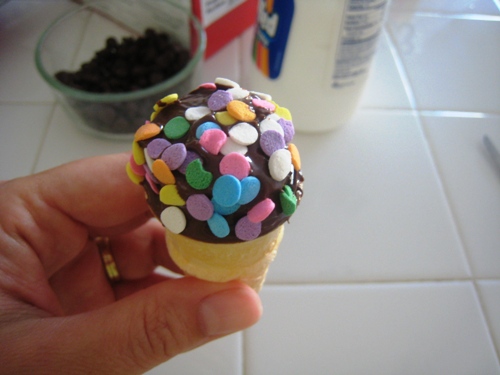 Props to my very clever husband for thinking up that one. Well, I added the sprinkles bit.
Now, go put your socks back on and try a batch of these mini smores cones. You can thank me later.
What's a dessert that YOU love?
Share it with us! And be sure to link back here so everyone knows where the party is.



Next week on URS: Food that Travels Well