As I have recounted in the past, I tend to drift toward frumpiness. Not sure what my problem is, but I guess I'd rather spend my time doing something other than primping or reading fashion magazines so that I can keep up. But, I know I feel more confident when I look a little more put-together. My new 'do was a step in the right direction. And my new dress from Shabby Apple?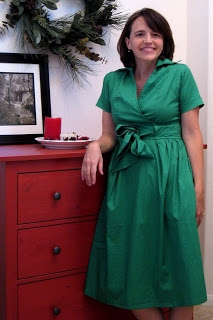 Well, I think it's pretty cool, too. I know I'm no fashion model, but still…. I love the bright green and the flattering style. The pockets are ample and the overall style seems retro/classic all in one. I like that.
I have to share my funny story, though. I so rarely get all dolled up and that inexperience was evident when I first put on the dress. You see, instead of choosing a size, I just sent them my measurements. I figured they knew better than I did. When it arrived, I promptly tried it on and it was really snug as I tried to get it over my head. I was a little worried that I wouldn't be able to share a real life photo or even wear it because of the snug fit. However, once it was on and I was ready to take it off, I found out that there's a zipper! Genius!
So, please, use the zipper. Save yourself some anxious thoughts.
Now, I know that once you pop over to Shabby Apple, you'll find something cute. And you'll also wonder why I would send you someplace that might not be deemed "frugal."
Well, that depends on your perspective. A press agent for another dress company recently contacted me about a "real world affordable" dress. The price tag? $495! I don't think so. The real world doesn't spend the month's grocery money on a dress. At least not my real world.
Shabby Apple dresses range from $70 to $100. In the retail world (not Walmart) this is a reasonably priced dress. Yes, you can find used for much less, but I personally am not talented at finding great clothes at the thrift store or yard sales. I rely on clearance racks mostly. But, I also think it's perfectly OK to pay retail price in several instances:
You have the money and aren't going to finance it.
You like dresses. (I personally loooove dresses. That is one of the things I look forward to once the baby is completely weaned. No more shirts and skirts for this girl!)
You find a dress you really love.
You buy quality and a classic style that will last you several years.
I think that if this describes you, then you are a perfect candidate to shop at Shabby Apple.
Shabby Apple is an online dress shop that specializes in "complete" dresses. You shouldn't need a slip or a camisole to keep under wraps. At the same time, you'll be fashionably in style. They even have maternity and fitness dresses as well as dresses for young girls and preteens. There are so many beautiful ones to choose from. Some of my favorites?
Now through December 20th, Shabby Apple is offering free shipping. Just use the code holidayship at checkout.
I'm really pleased with the dress I have. Now, I've got a new 'do and a great dress. I already had a hot date. So, now, we just need somewhere to go…..
Disclosure: I received the green dress pictured so that I could review this product.
in a reader and join me on the Road to Joyful Motherhood.