About three months ago in an effort to curb our grocery spending, I started investigating The Grocery Game and then stumbled upon Money Saving Mom and a whole host of frugal blogs. Wow! Have I learned a lot! Where have I been all these years?
At about that time, I walked into CVS for the first time. I'd always gone to Walgreens because it was closest. Now, CVS is a weekly haunt of mine. We have been really blessed by the sales and friendly people at this store. And since there's one on practically every corner in Kansas City, I've had the opportunity to visit several, and say that, in general, my experience has been positive.
Other blogs do a great job letting you know all about the great deals you can find at Consumer Value Stores. (That's its original name, by the way.) These bloggers, like Money Saving Mom, also give you heads' up on coupons to help stretch your dollar farther. I'm going to leave that to the experts.
However, my desire here is to help MOMS do their jobs as best they can. And for many of us, keeping the household supply level steady as well as balancing the budget fall into that category of "MOM jobs." So, I'm sharing what I do to save us money and offering suggestions about what you can do, such as in my CVS Primer for June. Please check that out before you go shopping at CVS as it features a valuable coupon that will help your purchases this week only. It expires Saturday.
This week there are several sales at CVS that might help your family. You may want to follow my June primer first before purchasing other items. It all depends on your budget and your energy level. Using coupons will reduce your costs, but I realize that that is not for everyone. I personally LOVE it! But, find your own groove! Here are what I see as some MOM deals this week.
General Mills cereal and granola bars – Buy $20, get back $10 in ECBs. Each item costs $3.33, so after receiving back your ECBs, each item's cost is reduced to about $1.67, a great deal for cereal and bars. See today's paper or MSM for coupons.
Buy $10 in Dove Products, get $3 back in ECBs.Items range in price from $2.50 to $9.99.
Huge Candy and Chocolate Sale – Buy $10 in selected candies, get back $5 in ECBs. You already know how we feel about chocolate around here.
And for graduation and Father's Day gifts, you may want to consider:
Nivea for Men products – Buy $10, get back $5 in ECBs. There are good coupons in today's paper.
Buy 50 digital prints and receive 20 additional prints free!
Buy 1 Hard cover Photo Book, Get One Free. Again, another coupon in today's paper that I think will apply.
5×7 Photo Collage $.99 – Combine this with the Buy 1 Photo Frame, Get One 50%-Off for another fun gift option.
This afternoon, I tackled the cereal and candy deals. The former to stock the cupboard, the latter to fill our pinata this week.
Trip #1
3 bags York Peppermint patties = 6.00
2 bags Hershey kisses = 4.00
1 Listerine Smart Rinse = 3.49
2 newspapers = 4.00 (Mouth dropping open here. They raised the price $.75 per paper!)
Total = 17.49
Minus 3/15
Minus York coupons for $1.65
Minus $1 Listerine coupon
Subtotal = 11.84 + tax
(Paid with $11 worth of ECBs and $1.10 in cash)
I got back ECBs for $3.49 and $5, so these items cost me $3.35! (I figure the cost based on subtotal minus ECBs received from that transaction.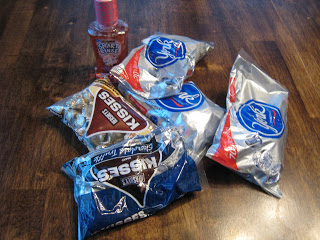 Trip #2 (These were marked 3/$10, but rang up as 3/$9, so I had to make a last minute addition.)
1 FiberOne $3.00
1 Total $3.00
3 Honey Nut Cheerios = $9.00
2 Nature Valley Granola Bars = $6.00
Total = 21.00
Minus 3/15
Minus $3 in Cheerios coupons
Minus $1.20 in Nature Valley coupons
Minus $.75 FiberOne coupon
Minus $1 Total coupon
Subtotal = $12.05 + tax
(Paid $11.99 in ECBs and $.51 in cash)
Received back $10 in ECBs, so the total cost of cereal and bars was $2.56!