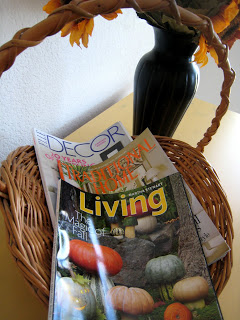 Looking for some great deals? Look no further.
Free Magazines
This past week I received Elle Decor, Martha Stewart Living,, and Traditional Home in the mail. How much did I spend? Zero. Keep your eye open for great deals (like $0) for magazine subscriptions. I'll let you know when I hear of one. Two current offers: American Baby and free trade magazines for a variety of jobs.
Swagbucks
We are just a little short of having "won" a new digital camera via Swagbucks. We earn points for searching the internet as well as for referring friends. Then we trade in the points for Amazon gift cards. The gift certificates accumulate in your Amazon account until you're ready to spend them. Download the SwagBar and you can get extra points by typing in special codes available every day through the end of September.

Ebates
Earn a percentage back from any online shopping you do. You'll be surprised at the variety of stores that operate through Ebates. Just visit your preferred store through the Ebates link and they'll credit you back some money to your Ebates account. Just don't order anything unless you really were going to buy it anyway. Shopping just 'cause doesn't save you any money!
Coupons
You know how I love coupons. Using coupons and shopping the sales saves us about $200 a month! Get the insider scoop on what coupons will be available in tomorrow's paper. And don't forget to browse what's available at Coupons.com And if you're out of the house early on Sunday morning, swing by Walmart. They are selling out early on their bargain priced papers now that I've told the whole internet.
Deals Blogs
The blogsphere is rife with savvy bloggers to tell you where to go for the great deals. Some of my favorites include Money Saving Mom, Freebies4Mom, Coupon Cravings, and Savings Cents with Sense.
Know of a great deal? Do tell.