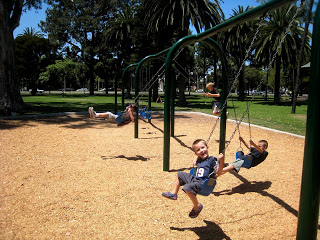 Got some swinging deals for you this week!
CVS is going on its 4th straight week of free school supplies. Don't miss out. Check out my primer as well as these creative uses for school stuff. Other than school, that is.
There are going to be some great coupons in this Sunday's paper — up to five inserts, including one from Kelloggs and another from Procter & Gamble! Check the Taylortown Preview to see which coupons might make it worth it for you to buy the paper. If you live near Walmart, consider purchasing it there. The SD papers go for $1.75 and $1.50 regular price, but Walmart sells them for a dollar and under.
Also on the couponing front, Coupons.com resets on the first of the month – today. Browse their selection and print what you know you'll use. The really good ones tend to go fast. I snatched up $1 YoPlus, $1 Muir Glen, and $1 Cascadian Farms as well as $.75 Kix. Can you tell I'm going back to Albertsons?
Visit the websites that link up to Frugal Friday. These bloggers regularly offer up a treasure-trove of money-saving ideas. I have learned so much.
Keep your eyes open for summer clearance sales. Some stores have already ditched it. But, the drugstores and places like Target are still holding on. I anticipate pretty cheap deals on the horizon.
Seen a great bargain lately? Share it with us!